His Highness Sheikh Ahmed bin Saeed Al Maktoum, Chairman of Dubai Silicon Oasis Authority (DSOA), has launched Dubai Smart City Accelerator within DSOA's wholly owned Dubai Technology Entrepreneur Centre (Dtec).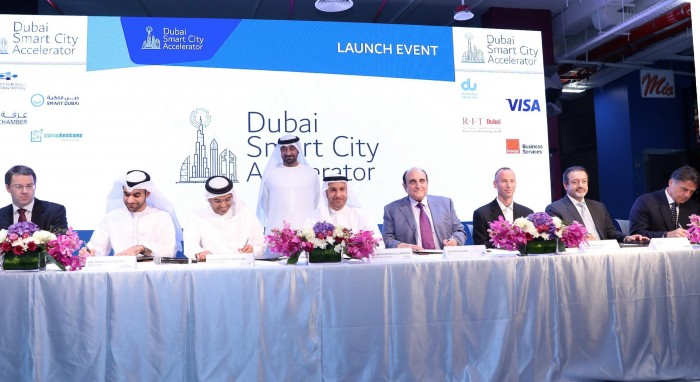 To be operated by Startupbootcamp, the global network of industry-focused startup accelerators, the Dubai Smart City Accelerator has been launched by the Dubai Silicon Oasis Authority in collaboration with six strategic partners: Emirates Integrated Telecommunications Company PJSC (du), Smart Dubai Office (SDO), Dubai Chamber of Commerce and Industry (Dubai Chamber), Rochester Institute of Technology New York, Orange Business Services, and Visa, injecting a total investment of AED18.4 million into setting up the programme.
The accelerator programme, based on Smart City technology, is targeting startups that are developing in-novative solutions to help make cities smarter and overcome significant challenges due to congestion, waste, and energy.
Furthermore, in a bid to improve life for citizens, the programme will aim to identify solutions within smart homes and buildings, smart transportation and logistics, smart living, as well as smart urban planning and maintenance. Several local and regional startups are anticipated to leverage the know-how within the Internet of Things (IoT), sensor technology, Big Data, and virtual reality spheres to develop disruptive solutions.
HH Sheikh Ahmed bin Saeed also launched the accelerator's portal to enable interested startups and entrepreneurs to apply for the programme.
To run over a period of three years with a total of 40 startups, those accepted into the programme will receive the world renowned and powerful Startupbootcamp acceleration package benefits including office space in Dtec.
Consultation and advisory support, as well as access to Startupbootcamp and its partner organisations and $20,000 in cash will also be provided, all for a six percent equity stake in the venture.
Once completed, the startups will join Startupbootcamp's global alumni network consisting of some 400 enterprises from more than 50 countries worldwide.
Dr Mohammed Alzarooni, vice chairman and CEO, DSOA, said, "As a strategic partner of Dubai's Smart City initiative and under the guidance and patronage of His Highness Sheikh Mohammed bin Rashid Al Maktoum, Vice President and Prime Minister of the UAE and Ruler of Dubai, DSOA is successfully positioned as a reputable and much sought-after testing ground for several Smart City solutions, applications and products in Dubai. We are committed to advancing our contribution through several initiatives, including the Happiest People strategy that is a core pillar of DSOA's 2021 Strategy and a stand-alone concept in itself."
He added: "Public-private partnerships play a strong role in the country's development and translate a positive impact on its economic landscape. As a Dubai government entity, we are keen to respond proactively to the UAE leadership's directive to enhance our partnership with the private sector, and more specifically with entrepreneurs and startups due to our focus on supporting such businesses. Given the existing synergy, we are delighted to venture into one more collaboration with these partners for the Dubai Smart City Accelerator programmeat Dtec."
Todd O'Brien, managing director, Startupbootcamp, said, "We are thrilled to announce our first Dubai Smart City Accelerator programmein the region that is a collaborative venture with the Dubai government and other partners. Startupbootcamp is privileged to support the target of making Dubai the happiest city by 2021 through embracing cutting-edge technology and innovation. Startupbootcamp ensures worldwide momentum and has accelerated more than 340 startups across 14 different programs globally since 2010. We are working with startups who are truly focused on making the future better and we know Dubai will support our efforts and help us grow our business to a whole new level."