Mattar Al Tayer, Director-General and Chairman of the Board of Executive Directors of Roads and Transport Authority (RTA) launched the trial run of the Bus on Demand initiative on Saturday.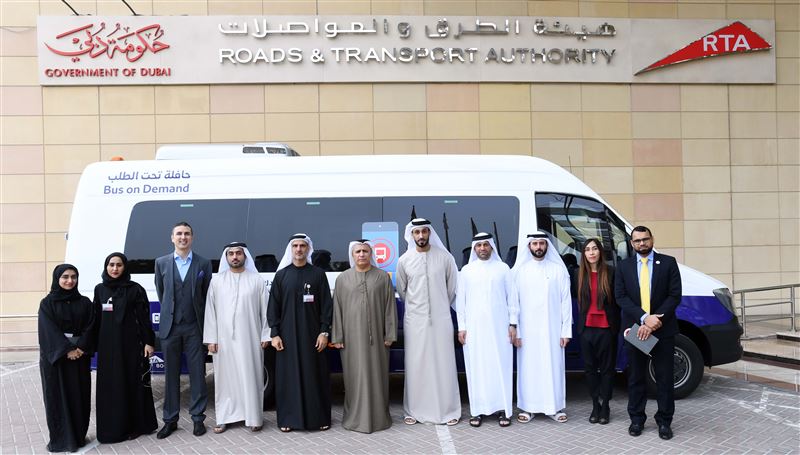 Bus on Demand is one of RTA's initiatives towards Dubai Future Accelerators and the Smart City to develop innovative solutions for the First and Last Mile challenges faced by public transport users. The service debut will be at Al Warqaa and Al Barsha, and continue for a trial period of three months – for free.
Ahmed Bahrozyan, CEO of RTA's Public Transport Agency, briefed Al Tayer and Belhoul about the project, which will be offered through the smart app (MVMANT).
"The 18-seater buses will operate on flexible routes and schedules, and bus drivers can know the service demand through the app to reach the nearest point to their destinations. Through the app, customers living at Al Warqaa and Al Barsha will be able to identify their locations and track the bus arrival times to their locations," he said.
"The smart responsive system is to address the requests of public transport riders based on the idea of linking some places with mini public buses operating nearby their locations. They can avail the service through the smart app, which enables them to figure out their routes from the start point to destination point, choose their preferred seats, and pay fares," he added.
During the trial operation, the RTA will assess the efficiency of the service in terms of accessibility to riders, response period, and the time of journey to the destination, Bahrozyan continued.
Khalfan Belhoul, CEO of Dubai Future Foundation said, "At the Dubai Future Foundation, we believe in the adoption of collaboration, by joining government and private sectors to solve current and future challenges. The solutions that the MVMANT's Bus on Demand service brings to the table will help reinvent the transportation sector on the one hand, while bringing benefits to the economy as a whole. Furthermore, the successful outcome of RTA's participation at Cohort 1 of the Dubai Future Accelerators program is proof that the spirit of co-creation is indeed a vital and important part of innovation and ensures a more successful rate in creating impactful change"
Before the launch of this initiative, RTA had conducted site surveys and polls covering 1750 samples (63% male, 37% female), and the proportion of those aged 25 to 34 amounted to 53% of respondents.
The service targets three categories: workers (23%), occupational specialists (15%), and retail & services business (62%). The site survey was based on several parameters including demography of service users, car ownership, mobility options, nearest public transport station/stops, and preferred mobility choices such as the walking distance, waiting time etc.