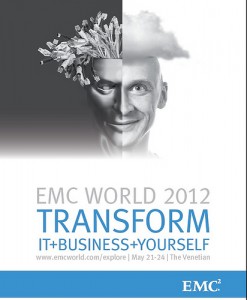 EMC Corporation has announced new initiatives and products to enable the company's worldwide network of channel partners to accelerate their customers' journey to cloud computing. Together with the EMC VSPEX Proven Infrastructure announced in April 2012, and the new VMAX Service Provider (SP) platform, announced last week, the new EMC Cloud Builder and Cloud Provider Practices, EMC Cooperative Services, and the new VNXe3150 unified storage platform provide EMC partners with the industry's most comprehensive and flexible cloud-enabling capability.
These announcements are a continuation of EMC's journey to the cloud.  In 2011, EMC announced the Velocity Service Provider program to jointly develop solutions and services with targeted, established service providers.  Those partners who successfully complete the Cloud Provider designation requirements will be included in the Velocity Service Provider Program.  Today, there are more than 160 EMC-powered services being delivered by over 50 EMC Velocity Service providers around the world.
At EMC's first annual Global Partner Summit (GPS) at EMC World in Las Vegas this week, Joe Tucci, EMC Chairman and Chief Executive Officer, and EMC sales and channel leaders, presented to more than 3,000 partners these new programs and technologies, as well as other initiatives that enable EMC channel partners to transform IT, business and themselves in order to maximize their customers' cloud computing opportunities.
The new practices announced include the EMC Velocity Solution Provider Practices – A new branded designation within the Velocity Solution Provider Program that recognizes advanced levels of capability.  Achievement of a Velocity Practice signifies a partner's value in delivering leading-edge solutions.  It recognises high-value skills in pre-sales, sales and services, across a broad set of technology solutions needed to address customers' strategic business initiatives.
The Cloud Builder Practice enables partners to successfully design, build and manage cloud infrastructures based on EMC technology. The Cloud Provider Practice enables Velocity Solution Provider partners with advanced capabilities to design, build and operate their own branded IT-as-a-Service cloud offerings based on EMC technology. The Cloud Builder Practice will be available starting in Q3 2012 and the Cloud Provider Practice will be available in Q4 2012. VMAX SP general availability is expected in 2013.
"Cloud computing represents a huge market opportunity for EMC's partners. Our new Velocity Cloud Practices enable and support them in developing the expertise required to accelerate their clients' journey to the cloud. Today's announcement is another example of EMC's commitment to advancing our partners' skill set, sales opportunities, and differentiation in the market. We are 100% focused on delivering our Velocity partners the best technology and the most comprehensive and rewarding partner program in the industry," said Gregg Ambulos, senior VP of global channel sales at EMC Corporation.
EMC also announced EMC Cooperative Services – a new service delivery model that gives partners an exclusive opportunity to supplement their existing skills and investments and broaden their portfolio of services. Available to service-enabled resellers who are part of the Velocity Solution Provider program and have achieved Velocity Specialty status. In this unique delivery mode, EMC Global Services provides service components to the partner to incorporate into a larger customer deliverable using proven EMC methodologies, best practices and analytical tools. Partners own the customer relationship and service engagement and can choose to brand the overall service as their own, further strengthening their role as trusted technology partners to their customers.
EMC Cooperative Services provides partners with greater choice and flexibility in high-value service delivery and are intended to drive profitable, strategic growth while reducing partners' investment to scale capabilities. EMC Cooperative Services for health-checks and assessments on major EMC technology platforms will be available by the end of EMC's second quarter. Additional EMC Cooperative Services for virtual infrastructure will be available in the second half of 2012.
CPI Technology's Senior Editor Sathya Mithra Ashok will be reporting live from the event floor through all days of EMC World 2012. Keep reading www.cnmeonline.com for updates.