Developing the latest technologies and innovation can open new avenues for opportunities between Latin America and the GCC, according to industry experts.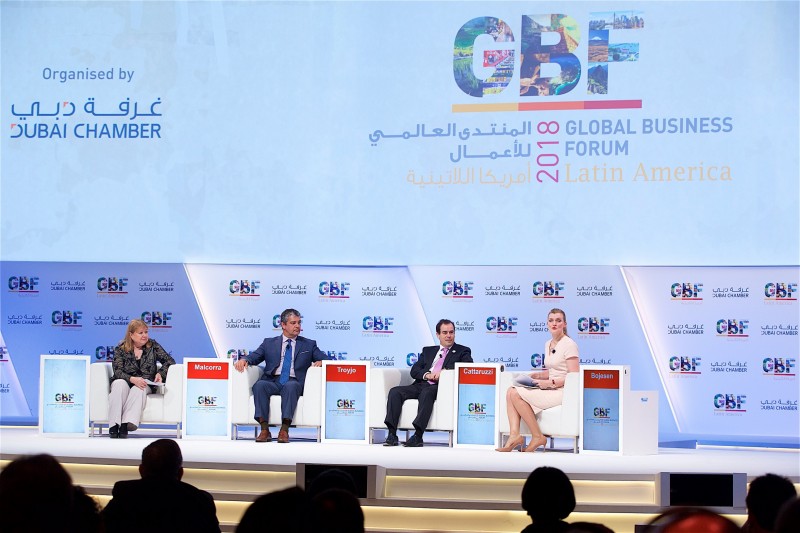 This was one of the key messages delivered by government and business leaders gathering at the Global Business Forum on Latin America 2018 in Dubai, during a panel session entitled "Redefining the Potential – The Search for Future Growth".
Joining the session were Susanna Malcorra, former Foreign Minister of Argentina; Marcos Troyjo, Brazilian political economist; and Lino Cattarruzzi, Managing Director of Middle East and North Africa at Google, who discussed the opportunities for increased collaboration between the GCC and Latin America.
With regards to the most significant driver for growth in Latin America over next decade, eadattaruzzi stressed the need for more direct flights connecting the two regions.
He also predicted that the ease of doing business would continue to improve in both parts of the world, as technologies such as blockchain come into play.
Meanwhile, discussing the growth potential for new partnerships with the Latin American countries, Malcorra explained that the region needs to project itself as a geopolitically stable market to attract diverse portfolio of investment from other regions. Furthermore, more needs to be done to facilitate knowledge transfer and economic cooperation between the two regions.
Latin America is looking to other parts of the world, including the Middle East, to help drive economic growth in many key sectors, including technology, agriculture, food security and supply chain, mining, tourism energy, in addition to renewable energies, she said.
She noted that Latin America offers plenty of attractive growth opportunities, but stressed the need to establish more public-private partnerships and improve logistics and connectivity with the region in order to make it more attractive to foreign companies and investors.
When asked about the barriers to growth and what needs to be done to overcome them, Malcorra gave an example from Argentina whereby she discussed the government's roadmap to facilitate supportive business atmosphere conducive to trade. In addition, public-private partnerships, and new regulation are being put in place in an effort to simplify easy of doing business in the country.
Cattaruzzi added that Brazil is also lowering costs of starting a business, in a similar move as the UAE, and the government there is working to reduce friction and develop an appetite for collaboration. While Malcorra agreed, she also emphasised the important role of business communities in fostering innovation and driving growth – giving the example that nine unicorns in Latin America have emerged and grown without government support.
Concluding the discussion, the government leaders emphasised their keenness to work with public and private sector stakeholders in the UAE and Middle East, and called on countries in the region to take a closer look at Latin America..