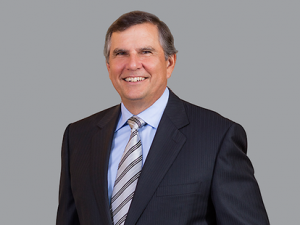 Emerson Electric's chief executive officer David Farr has made a third attempt to purchase Rockwell Automation, reported Bloomberg.
Hiking the deal by 4.7 percent, Farr is hoping to sway the rival firm this time around in order to become a formidable player in the industrial automation space.
Bloomberg said that the cash-and-stock offer of $225 a share values Rockwell Automation at about $29 billion. Rockwell shareholders would own 22 percent of the merged companies.
As per the report in Bloomberg, Emerson is aiming to strengthen its portfolio by adding the "leading supplier of software and controls for assembly-line operations." Emerson largely caters to the process side of the business, providing software and equipment for products made by combining ingredients, such as chemicals, oil refining, pharmaceuticals and beverages.
In Farr's letter to Blake Moret, Rockwell automation CEO, he wrote, "The industrial logic for this combination is clear. By leveraging the key technology platforms that are the strengths of Emerson and Rockwell, we can create an industry leader with unmatched capabilities that integrates all aspects of the automation system for a global customer base."
According to Bloomberg, Rockwell said it had received the proposal and would respond in due course.
The Milwaukee-headquartered firm has snubbed Emerson's two previous offers – at $200 a share in August and $215 a share in October, said the news site. "Rockwell maintained it was better off alone with a successful Logix product that gives customers a single software platform to build on instead of learning multiple ones."
Bloomberg reported that the company has tried to get into process automation, where Emerson has a stronghold.
"Over the past decade, our investments in technology and globalisation have enabled us to expand our addressed market to over $90 billion," Rockwell said in its Nov. 15 annual filing to the Securities and Exchange Commission. "Our process initiative has been the most important contributor to this expansion and remains our largest growth opportunity."
Farr's response has been that Rockwell, although has talked for a long time about the importance of increasing its market share of process automation, it hadn't taken any significant actions.
According to a report by Journal Sentinel, Farr also said, "We remain convinced there is a compelling, strategic, operational and financial merit to bringing together our two companies."
Bloomberg reported that the risk for Farr could be that he may be paying an exorbitant price if his expectations on efficiencies and sales from Rockwell are not met.
Emerson estimates the total value of synergies with the combination would be more than $6 billion, which translates into $1.3 billion or $10 per share of more value for Rockwell Automation shareholders, Bloomberg said.