It's been a busy few opening days at CES 2018 in Las Vegas. Following an abundance of automotive-fuelled announcements and robotic launches, local bank Emirates NBD has now put its own stamp on the event, and has announced plans to introduce the first battery-powered, interactive payment cards in the UAE in 2018.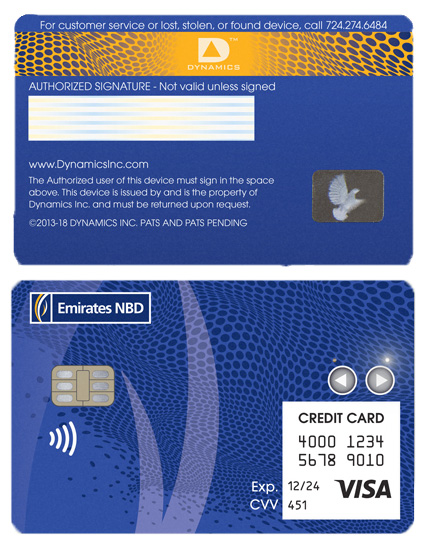 In partnership with Dynamics, the Wallet Card is the "world's first connected, secure payment card," and was recognised with four CES Innovation awards during the launch event, including the Best of Innovation Award for Security Technologies. It was also an honoree for Computers, Embedded Technologies, and Technologies for a Better World.
According to the bank, Wallet Card users can expect a number of benefits, should they choose to opt for the interactive card option. If data is compromised, the bank can instantly delete the compromised card account number and replace it immediately with a new card and new account number, reducing the risk of fraud and adding peace of mind to the consumer with a new card.
A battery and organic recharging chip is also included in the card, enabling the card to charge itself through normal operation. It can last indefinitely without the need for the consumer to perform any physical action. It also includes a mobile phone chip and antenna, so that data can be transferred between the card and the bank anywhere in the world and at any time of the day.
Wallet Card users can also access their debit, credit, pre-paid, multicurrency, one-time use or loyalty cards on a single card "with a tap of a button," according to a statement from Emirates NBD. The cards can also be distributed "anywhere and at any time," such as their retail branches, during events, or even in-flight. Card information is then downloaded through an over-the-air cellular connection.
"Emirates NBD is a visionary bank that has enabled a visionary product with the award-winning Wallet Card," said Jeffrey Mullen, CEO of Dynamics Inc. "With Wallet Card, Emirates NBD will revolutionise the UAE payment experience to provide the fastest and most secure card services and features in the UAE."
Suvo Sarkar, Senior Executive Vice President & Group Head – Retail Banking & Wealth Management at Emirates NBD, said, "As part of our commitment to offer an enhanced banking experience through innovation, we are bringing the best card technology in the world to the UAE so our customers can have the best card experience."
He added, "Our customers will soon be able to download new cards, and receive remote card notifications, directly onto their Emirates NBD Wallet Card. This will provide unprecedented levels of choice, flexibility, and security never before offered in the UAE."