Emirates National Oil Company (ENOC) is reportedly planning to set up a 'service station of the future' at the next World Expo.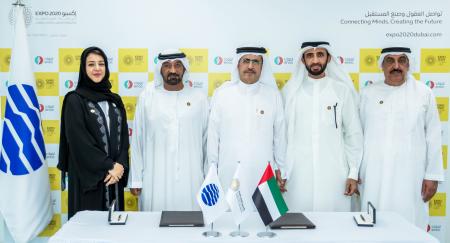 As Expo 2020 Dubai's Official Integrated Energy Partner, ENOC will set up a fully functioning, futuristic service station during the six months of Expo 2020 – from 20 October, 2020 to 10 April, 2021 – using multiple sources of energy, from solar to hydrogen as well as traditional hydrocarbon sources
The project is part of ENOC's commitment to support the socio-economic growth of Dubai and the UAE, ENOC Group believes that Expo 2020, which has a core theme of 'Connecting Minds, Creating the Future', is an ideal platform to facilitate discussion over the future of integrated energy.
The signing of the contract by Sheikh Ahmed bin Saeed Al Maktoum, Chairman of the Expo 2020 Dubai Higher Committee, and Saeed Mohammed  Al Tayer, Vice Chairman of ENOC and Managing Director and Chief Executive Officer of Dubai Electricity and Water Authority (DEWA) took place at Expo 2020's Dubai South offices.
Sheikh Ahmed said, "The burgeoning global population continues to put pressure on our dwindling natural resources, so finding optimum ways to source and deliver energy is critical to our future. Sustainability is one of Expo 2020 Dubai's three key subthemes, and it is also a core focus area for the UAE.
"We look forward to working with ENOC and other Expo 2020 Dubai partners to explore innovative solutions to see what is possible – or even yet to be imagined in this crucial area."
Also present were Reem Al Hashimy, UAE Minister of State for International Cooperation and Director General of Expo 2020 Dubai;  Saif Humaid Al Falasi, Group CEO of ENOC;  Mohammed Ibrahim Al-Shaibani, Vice Chairman of the Expo Dubai 2020 Higher Committee, Director General of The Ruler's Court of Dubai and Executive Director and CEO of the Investment Corporation of Dubai (ICD);  Saif Humaid Al Falasi, Chairman of ENOC; Zaid Al Qufaidi, Managing Director of ENOC Retail; and Moadh Bukhash, Head of Group Communications of ENOC.
ENOC becomes the latest Expo 2020 Official Partner, following the appointments of DEWA as Official Sustainable Energy Partner and UPS as Official Logistics Partner.
Expo 2020 aims to showcase cutting-edge examples of sustainability with its own structures and operations, such as the Sustainability Pavilion, which will supply much of its own energy requirements.
Saeed Mohammed Al Tayer said, "Expo 2020 Dubai is a project of national significance to the UAE, as the first ever World Expo to be staged in the Middle East, Africa and South Asia (MEASA) region in 167 years of the event. We are proud to be part of this growing family of leading corporate partners of Expo 2020.
"This shows our nation's continued commitment to the highest standards of environmental sustainability and energy efficiency. It also shows our alignment with the objectives of the UAE Vision 2021 National Agenda, to achieve a sustainable environment and an increased use of clean energy and green development, and the Dubai Plan 2021, to make the Emirate a smart and sustainable city."
Al Tayer added: "The prospect of 'Connecting Minds' in this way is very exciting and will offer ENOC added impetus as we explore alternative ways of maximising existing and future sources of energy for the benefit of our people and also our planet."