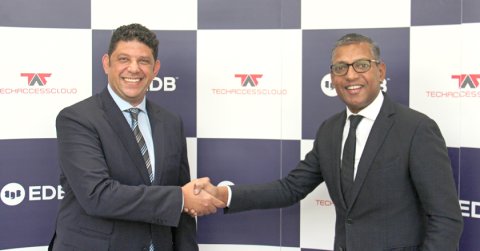 EnterpriseDB, the leader in accelerating Postgres in the enterprise, announced that it has signed a distribution agreement with TechAccess Cloud, a leading Super Value Added Distributor for the Middle East and Africa region. 
Under the vision of 'the customer always comes first', the partnership enables TAC to go to market with EDB's open-source strategy, supporting customers and partners in their digital transformation journey.  The dynamic pressures of the business landscape mean that digital transformation facilitated by the right tools and technology is critical. EDB and TAC share the belief that open-source strategies and solutions such as Postgres offer substantial advantages across industries, delivering impressive returns on investment compared to legacy solutions.
"TAC has established itself as a true enterprise class Super-VAD and enabler of digital transformation in the MEA region, and EDB is honored to partner with such an accomplished and reputed partner. EDB has emerged as one of the leading contributors to Postgres, the most loved and used database by developers. Like EnterpriseDB, TAC believes in prioritising a customer's needs and helping accelerate their innovation. Open-source technologies like Postgres continue to outperform and outpace legacy systems, addressing customers' digital transformation requirements and pain points across sectors", said Karim Assem, Regional Sales Manager, EnterpriseDB.
As part of its go to market strategy, EDB is committed to promoting the adoption of open-source tools, as they offer customers significant benefits over specialty and legacy systems. EDB also stands out for its enterprise-grade software and services, distributed Postgres, extreme high availability, and support for multi cloud and hybrid cloud environments.
In a recent poll with over 72,000 responses, Postgres emerged as the most loved, and most wanted database in the world. EDB empowers Postgres to be deployed everywhere, whether running in Kubernete , any major public cloud, or a hybrid environment. It has emerged as one of the best tools for IT teams, developers, architects, database administrators and operations professionals, offering total access to data.
"We are excited to partner with EDB – a strong proponent of open-source technology. Our partnership allows us to offer a globally proven and extremely capable open-source powered alternative to our customers across the MEA region. TechAccess Cloud and EnterpriseDB share a common vision around prioritising customers' needs", said Alfred Chrispanous, Managing Director, TechAccess Cloud.
"Existing monopolies and legacy solutions have created a situation where customers have expressed concern. Before signing EDB, we did our homework. We involved our customers, alliance & channel ecosystem partners, some of whom we have worked with for 25 years, in the decision-making process. The feedback was extremely positive, which is why we moved ahead with this partnership. By working with EDB, TAC can offer a powerful alternative that addresses MEA  Channel partners , ISV's, and Customers' requirements in terms of features, security, stability, scalability, and of course, cost", Alfred Chrispanous added.
In the realm of cloud computing and open-source technologies, (TAC) has pioneered the 'Super Value Added Distributor (Super-VAD) model, which goes beyond traditional distribution models by offering a high-touch approach to key customers in the federal and enterprise sectors. It involves not only the distribution of cutting-edge cloud and open-source solutions but also the provision of comprehensive support, tailored consulting, and personalised services. By embracing TAC's Super-VAD approach, organisations gain access to a range of benefits such as leveraging the expertise and guidance of core Tier2 specialised partners who possess deep knowledge of cloud technologies and open-source solutions with certifications; and unparalleled customer support, which ensures that organisations receive timely assistance, troubleshooting, and proactive monitoring to address any issues or concerns promptly.
As part of the MEA wide partnership, EDB is providing comprehensive support to TAC, including training, enablement, adoption, resources, and elevation. Both organisations are already working together closely to address customer digital transformation needs across sectors, operating under the vision of the customer always comes first.
EDB and TAC are excited to announce their participation in GITEX Global 2023. Senior executives from both companies will be available at Stand#10, Hall 6 to meet & greet with customers and partners, exploring limitless innovation with open-source.