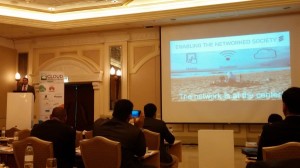 As a part of its participation at Cloud World Forum MENA 2014, Ericsson discussed the opportunities enabled by the Cloud in light with the significant transformation of the Information and Telecommunication Technology industry in the Middle East.
Ericsson highlighted the "Real time cloud environment" and the role it plays to enable the smart city all the way to the realisation of the Networked Society; broadband everywhere, with connectivity and smartphone uptake significant elements to drive the cloud uptake to provide people with innovative services to communicate and collaborate on the go.
Ericsson's speakers specifically addressed the regional operators by highlighting the advantages of the network transformation with cloud systems which will help the operators to gain efficiencies in operations as well as improved time to market.