Ericsson  and Qatar's Supreme Council of Information and Communication Technology (ictQATAR) today announced the launch of a new strategic partnership that aims to boost the adoption of information and communications technology (ICT) in the State of Qatar. The partnership, which was formalized through a Memorandum of Understanding, seeks to support Qatar's National ICT Plan 2015.
The MOU was signed by Hassan Al-Sayed, ictQATAR Assistant Secretary General, IT and ICT Government Sector and Ray Hassan, President Ericsson Gulf Countries and in the presence of Dr. Hessa Al-Jaber, Secretary General of ictQATAR and a high delegation from Sweden represented by Gunnar Oom, Swedish Secretary of Trade and Max Bjur Swedish Ambassador in Qatar.
As part of the partnership, Ericsson and ictQATAR will collaborate in a number of areas including "Technology for Good" which covers initiatives such as sustainability through ICT solutions and also aims to use ICT to unlock the potential of the e-Economy such as e-Education and e-Government in Qatar and the region.  Other areas of collaboration include revamping the ICT infrastructure, and enabling platforms to support consumer driven Arabic content development, and improving the quality and efficiency of ICT services.   In addition, Ericsson and ictQATAR will focus on ICT Maturity in order to create a knowledge-exchange based environment to increase the ICT usage in Qatar while leveraging Ericsson's global and local competence in the ICT industry.
"Partnering with leading companies in the ICT industry plays in important role in Qatar advancing our digital agenda, and ictQATAR looks forward to working with Ericsson to build a truly networked nation.  The ICT industry is an essential part of Qatar growing a robust knowledge-based economy and we are committed to fostering its development to bring all the benefits of an advanced information society to those that live and work here," said Hassan Al-Sayed, ictQATAR Assistant Secretary General, Information Technology Sector and ICT Government Programs.
"Qatar's approach towards developing a home-grown ICT industry is becoming a reality and we are proud to have been selected by ictQATAR to be part of its' strategic agenda for the country," said Ray Hassan, President Ericsson Gulf Countries. "There are several synergies that will be leveraged as part of this collaboration. Our vision of a Networked Society where people, businesses and devices are networked for the growth of society, life and business mirrors many of the objectives outlined as part of the Qatar National ICT Plan."
Hassan added: "Economic diversification is a challenge that countries around the world are faced with and Qatar must be applauded for recognising the need to develop industries, such as ICT, which can have a far-reaching, sustainable impact on the national economy."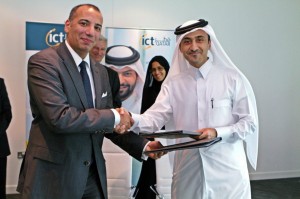 Qatar's National ICT Plan seeks to double the ICT sector's contribution to the country's Gross Domestic Product (GDP) to $3 billion by 2015, while also doubling the ICT workforce to 40,000 personnel during the same period. It also aims to achieve 95 percent penetration of high-speed broadband, mass ICT and internet adoption by all segments of society and the adoption of internet-based services by key government agencies.