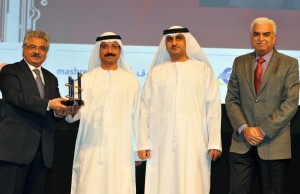 Eros Group announced on Sunday that it had been named the best re-exporter of the year for 2012 at the fifth ESEA E-Services Excellence Awards.
The award is organised by Dubai Trade to encourage "e-transformation" in trade and logistics and to recognise the most active online performers throughout the year.
"It is a proud moment for all of us at Eros Group to receive the prestigious E-Services Excellence Award from Dubai Trade, the premier cross-border trade facilitator," said Deepak Babani, CEO, Eros Group. "We take this opportunity to thank all our principals, trade partners, staff and customers for taking us further ahead in our quest for excellence.
"It's overwhelming to receive such a felicitation and that our efforts are recognised and awarded. This will help us to keep the momentum going on and aim at bigger goals."
The fifth E-Services Excellence Awards was held under the patronage of His Highness Sheikh Maktoum bin Mohammed bin Rashid Al Maktoum, Deputy Ruler of Dubai.