ESET has announced that the latest version of ESET Remote Administrator is now available on Microsoft Azure.
According to the firm, this version provides native support for exporting events to IBM QRadar and multi-tenancy, and enables IT administrators to drill down into endpoint security environments at any time to quickly remediate risks.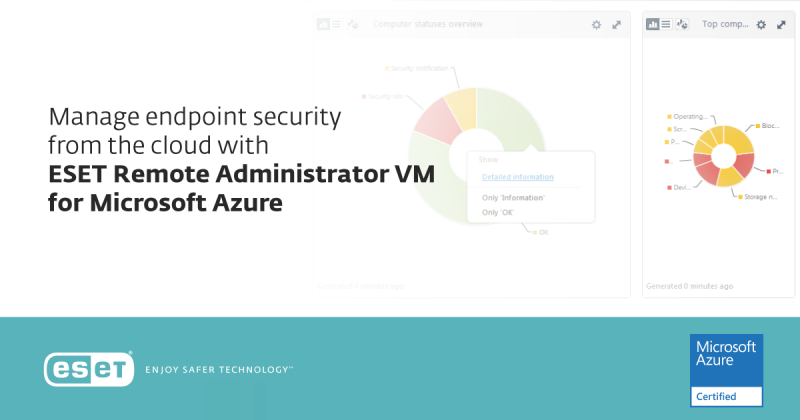 For managed services providers (MSPs), who are typically contractors or value-added resellers (VARs), the high availability of ESET Remote Administrator on Azure, combined with the multi-tenancy option, are key core features. The ability to run ESET's security software on a single server that can serve multiple tenants will streamline MSP's security management while allowing for speedy resolutions across the client network.
"As we continue to build ESET's Managed Service Providers portfolio, we're excited about this new product offering," said Michal Jankech, senior product manager, Business Security, ESET. "Our goal is to simplify and enhance the ability of MSP to deploy and manage their endpoint security solutions to ensure they can protect their data from any threat that may arise."
As seen with the previous version of ESET Remote Administrator for Microsoft Azure, the programme expands the options for businesses that want to manage their ESET security solutions from the cloud. Physical and virtual desktops and servers can be managed easily, regardless of whether it's Windows, macOS or Linux OS, or an Android or iOS mobile device.
ESET Remote Administrator does not require businesses to purchase additional hardware. It delivers full visibility and control 24/7 even in the event of on-premises downtime or server crashes, which minimises risk, enhances compliance and shortens remediation times, according to the firm. By providing the pre-configured virtual machine with ESET Remote Administrator for Azure, ERA is available for nearly anyone with internet access. For small- to medium-sized businesses, the product represents a cost-effective alternative to the on-site ERA deployment. Moreover, users can customise their instance of ESET Remote Administrator with their logo to generate reports with customised headers.
"ESET Remote Administrator on Microsoft Azure benefits ESET customers with the addition of multi-tenancy and expanded support," said Ryan McGee, director, Security Product Marketing, Microsoft Corp. "Now MSPs can access the benefits of Azure, including its global scale and reliability, while managing their security from one central point."