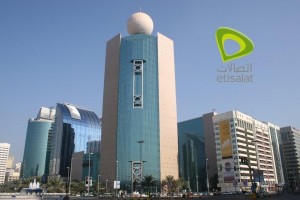 Etisalat has announced the launch of 'Business Quick Start' – the first in a series of Etisalat's integrated 'Business in a Box' solutions that offer SMBs high-speed fixed broadband Internet, free voice minutes and a free Smart device on a single, converged bill.
Etisalat envisages that with Business Quick Start, SMBs can save more on upfront investment and experience transparent and predictable communication costs.
This business bundle is available for all existing and new SMB customers and offers over 25 percent savings on their existing communications and equipment spend.
For AED900 per month, customers get a fixed broadband Internet connection starting from 10Mbps, a fixed voice connection with 200 minutes of free usage and a free smart device of choice between a laptop, tablet or phone. Minutes included in the business bundle offers 100 minutes of local and 100 minutes of international voice calls.
"SMBs form the foundation of the UAE economic growth strategy. They boost investment and employment, and drive innovation," Salvador Anglada, Chief Business Officer, Etisalat, said. "In the UAE, SMBs account for 92 percent of all businesses. We believe that the UAE's SMB sector has huge growth potential. Our efforts at Etisalat are dedicated to help empower these businesses tap the opportunities available to them. We are extending our new Business Quick Start offering to SMBs to meet their communication, IT and security needs through a single bundled package. Our next suite of enhanced Business in a Box solution will include more cost-effective integrated modular offerings to cater needs of SMBs, helping them save big in the long term."
As well as the Business Quick Start bundle, business customers can choose several add-ons including fixed and mobile plans such as Business Ultimate, Business DataShare and Business Traveller Packs.
Business Quick Start is available through Etisalat's account managers, channel partners and business centres.
"There are over 100,000 new SMBs in the UAE without instant connectivity," John Lincoln, Senior Vice President, SMB, Etisalat, said. "We believe that the 'Business Quick Start' proposition will help SMBs get started in this new digital community. The new all-in-one bundle is part of our earnest effort to help our SMB customers grow, allowing them to scale and expand as their ICT needs and organisations evolve. It delivers everything that an SMB needs from one service provider."