Wednesday, 20th October 2021, Dubai, UAE: StarLink, the fastest growing specialised cyber and cloud VAD in the META region and Tamdeed Projects, an Etisalat Services Holding company – part of Etisalat Group; have entered a strategic alliance to collaborate in the Intelligent Automation, Cyber and Cloud domains.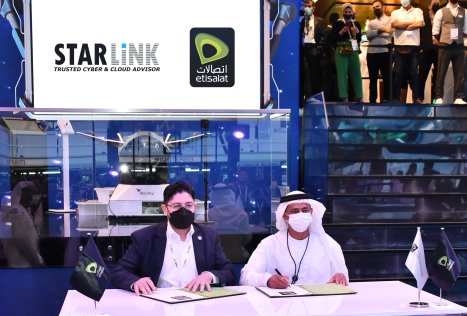 The two companies signed an MoU at GITEX 2021 and agrees to work together and leverage on each other's vast experience in myriad areas of expertise. The focus will be to join efforts and offer best-of-breed solutions and services and play an integral role in enabling organisations thrive, become resilient and elevate their digital transformation journey to the next level with automation and artificial intelligence.
The partnership is directed at having a holistic approach towards cybersecurity with Intelligence Automation, Cloud and Datacenter, provided from an array of cutting-edge solutions in the StarLink portfolio and capitalising on the training expertise & facilities along with services offerings.
Mahmoud Nimer, President, StarLink commented "This partnership is very strategic to StarLink and as a 'Digital Advisor' we will extend our consulting services to Tamdeed Projects to empower their customers with advanced technologies delivered through our end-to-end and extensive solutions portfolio supported by highly skilled professionals in the cyber, cloud and intelligent automation space".
Tareq Salman, General Manager/Tamdeed Projects stated "Tamdeed Projects are delighted to have this partnership. We see a big ambition to grow the business.  Partners like StarLink will allow Tamdeed Project to continue to scale and expand. Specially that Tamdeed Project stands out as a leader in the market transforming into a total Telecom and ICT Systems Integrator and Managed Services Provider.  By working with StarLink, there's a positive outlook for years to excel in business unique value proposition together".