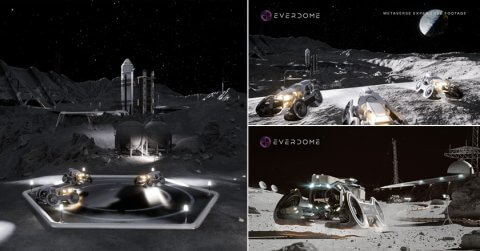 The interplanetary metaverse project Everdome announces the first look at their ''Endurance Moon Skimmers,'' one of their many in-world immersive multiplayer experiences currently in construction.
Everdome's compact and resistant Ground Effect Vehicles, or ''Endurance'' Moon Skimmers, will be part of their diverse metaverse environment, allowing their digital explorers – Evernauts to take time for a unique experience of Moon based exploration during their journey to Mars from Earth's Lower Orbit.
During this interactive gameplay experience, the interactive free ride and exploration mode of these Moon explorers will include a smooth and rapid ride hovering just inches from the surface of the Moon.
Since early 2022, Everdome has been constructing an extremely high quality metaverse experience, based on real scientific research and centred on a Mars and space exploration theme, as part of their commitment to creating immersive experiences for individuals and brands by using the most pioneering Web3 technology.
This new announcement by Everdome demonstrates how they plan to integrate player experience into their metaverse world building project.
Jeremy Lopez, Everdome Chief Operation Officer, said: "'The hyper-realistic environment that we craft at Everdome is just part of our overall experience. User experience and excitement is key, so we are therefore delighted to demonstrate this first look at some of the in-world adventures we have planned for those experiencing Everdome''.
Following on from their maiden rocket launch, which was streamed live in November last year as a metaverse world first, these vehicles form part of Everdome's hyper-realistic metaverse landscape, which includes an epic interplanetary journey from the futuristic Hatta Spaceport in the UAE to Everdome's Mars city.
With further brand partnerships planned for announcement across 2023, this first look at features being created to augment Everdome's experience is just a start for a ground-breaking new platform that engages users and audiences for both Everdome and their brand partners alike.