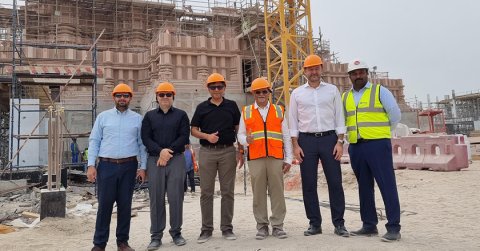 Extreme Networks, Inc. recently announced that it will deploy a new fabric-enabled wired network for the landmark BAPS Hindu Mandir temple in Abu Dhabi, United Arab Emirates, which is focused on promoting universal values and harmony and is set to open in February 2024.
The new network will enable BAPS Hindu Mandir to support and secure digital experiences like multimedia displays across the temple complex, which includes exhibition halls, a prayer hall, a tranquil garden and staff offices. Worshipers and visitors will now have more immersive and digitally driven experiences at the temple.
The new temple is an extension of the global relationship between BAPS and Extreme Networks, as Extreme will also deploy new networks for the BAPS Sydney Temple in Kemps Creek, Australia and the BAPS Mandir in Robbinsville, New Jersey, United States of America.
The BAPS Hindu Mandir will be the first temple and cultural complex of its kind in the region and aims to offer guests a modern experience while honouring tradition. With Extreme Fabric Connect and Universal 5000 Series switches, the temple can easily support advanced applications and services throughout the new complex. These include seamless visitor management applications, security cameras and other IoT devices, staff devices and the temple's robust A/V system.
Extreme's Fabric solutions make it easy to scale the network as necessary to support temporary needs like outdoor events or services and give the IT team the ability to segment network traffic to prevent lateral movement and minimise the impact of a potential cyberattack. Further, the 5000 Series switches are fabric and cloud-ready, enabling the temple to change its OS should its needs change over time and transfer or pool licenses between devices, helping extend the life of its hardware investment.
Executive Perspectives:
Ashok Kotecha, Spokesperson, BAPS Hindu Mandir
"Extreme's expertise in cloud networking aligns perfectly with the BAPS Swaminarayan Sanstha's vision for a technologically advanced temple that provides a modern visitor experience while promoting universal values and harmony. With its commitment to reliability, security and innovation, Extreme will help us ensure that the network at BAPS Hindu Mandir will become a global benchmark for digital infrastructure in places of worship and empower us to create an immersive and unique experience for all our visitors".
Maan Al-Shakari, Regional Director META, Extreme Networks
"Extreme has the most widely deployed fabric solution in the world, and it's because fabric makes it so easy for our customers to manage and scale their networks as necessary while ensuring security and performance. Starting with a secure and scalable digital foundation will help the BAPS Hindu Mandir minimise manual tasks for its IT team and maximize its technology ROI, something very important in a new build project of this size, while offering incredible visitor experiences that they can build upon throughout the temple's future".