Dubai, UAE, December 30, 2020: EZVIZ, a global-leading home intelligence brand, announced today the availability of its C3N camera in the Middle East region, a brilliant addition to its colour night vision camera range.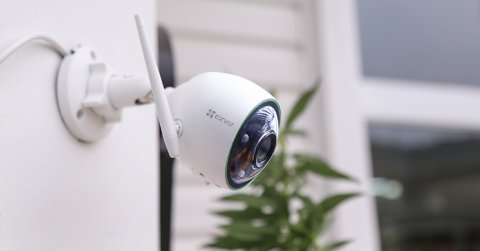 The C3N intelligently protects exterior areas around your property day and night with 1080p video, real-time person detection, and three night-monitoring modes. It makes it the ideal addition to a villa, apartment block or office as the C3N camera provides property owners with real-time images of their outdoor property and sends motion-triggered notifications when they are at home or away.
The C3N provides users with colourful details that are traditionally unavailable with other night vision products, such as the colour of cars passing by. With advanced PQ (Perceptual Quantiser) technology, night-time images are even sharper as the image brightness is adjusted dynamically.
The C3N camera's two built-in spotlights are versatile. Users can leave them on all night to illuminate dark areas, turn them off to enjoy privacy, or even flash them to warn trespassers. The spotlights also make three night-vision modes a reality: colour mode when the lights are on, black-and-white mode when the lights are off, and smart mode, which automatically turns the spotlights on for 90 seconds when it detects people.
"We're working to make the colour night vision and basic AI person-detection capability available on the majority of our outdoor cameras," said Jobs Cheung, global product manager of EZVIZ. "With C3N, customers will find that those technologies that used to be exclusive to professional equipment are becoming accessible and affordable and that they too can enjoy professional protection at home".
With an IP67 design to withstand all weather and two external antennas to boost Wi-Fi connection, the C3N camera delivers long-lasting and reliable protection. Thanks to H.265 video compression technology, the C3N reduces the required storage space by 50% while rendering very impressive image quality.
The C3N camera is priced at AED 250.