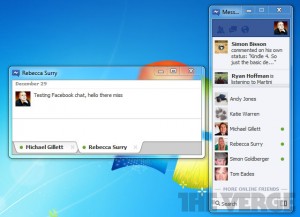 Facebook has officially launched Facebook Messenger for Windows, a desktop client that lets you chat with and message your Facebook friends, view updates from your friends in the Ticker and receive notifications about actions such as new comments and photo tags. You don't need to be visiting Facebook.com to use Messenger.
The Facebook Messenger for Windows download link first leaked in version 2.0.4373.0 in December. The current version, 2.0.4430.0, requires Windows 7; you cannot yet install Facebook Messenger if you use Windows XP, Windows Vista, Mac or other operating systems, though it is available for Android, iPhone and BlackBerry. Facebook said it is "working on making this app available for more operating systems, so stay tuned."
A few other notes on the new release of Facebook Messenger:
-You can close the sidebar but still get notifications and chats by clicking the X at the top-right corner. If you don't see an X, make sure the app is undocked. Note that closing the sidebar will keep you logged in. If you want to log out of the app completely, right click the Facebook icon in your Windows task bar, then click "Log out."
-Your Messenger privacy has the same preferences you've set in your privacy settings for your activity on Facebook.com.
-You can't yet chat with a group or place video calls with friends on Messenger, nor can you limit chat availability through the app. These features are still available via your Web browser, though.