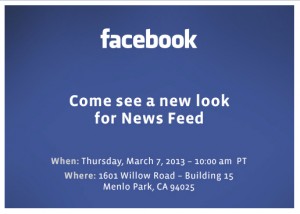 Facebook is giving its News Feed section "a new look" and is planning to reveal the changes next week during an invite-only media event.
Currently there are no details on the changes. "Come see a new look for News Feed," reads an invitation emailed to journalists on Friday.
The social network will be unveiling the changes March 7 at its Menlo Park, California, headquarters.
Facebook's News Feed appears in the centre column of a user's home page, displaying a constantly updated list of stories and posts from people and Pages that users follow on the site. Facebook has been tweaking it since it launched in 2006.
The feature's algorithms for displaying certain friends' posts but not others has led to some complaints from users over the years, while others have expressed concern that it has become too noisy by increasingly displaying advertisements based on users' "likes."
As often happens with Facebook changes, there's likely to be an interest on any impact the News Feed revamping may have on user privacy.