Facebook chief Mark Zuckerberg says he accepts responsibility for the social network's failure to protect private data and prevent manipulation of the platform, according to testimony released Monday on the eve of his first Congressional appearance.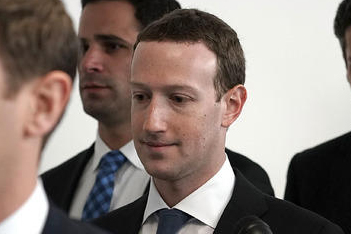 "We didn't take a broad enough view of our responsibility, and that was a big mistake. It was my mistake, and I'm sorry," Zuckerberg said in his written testimony released by the House commerce committee.
"I started Facebook, I run it, and I'm responsible for what happens here."
In his written remarks, Zuckerberg called Facebook "an idealistic and optimistic company" and said: "We focused on all the good that connecting people can bring."
But he acknowledged that "it's clear now that we didn't do enough to prevent these tools from being used for harm as well. That goes for fake news, foreign interference in elections, and hate speech, as well as developers and data privacy."
Zuckerberg is scheduled to appear before a joint hearing of the US Senate Judiciary and Commerce committees on Tuesday and the US House Energy and Commerce Committee on Wednesday.
Facebook has come under fire in recent weeks after it said that the personal information of up to 87 million users, mostly in the United States, may have been improperly shared with political consultancy Cambridge Analytica.
During the hearing, Zuckerberg will likely face questions about ads and posts placed by Russian operatives, in what US authorities believe was an attempt to influence the US 2016 election.
If Zuckerberg does not provide satisfactory answers this week, Congress is more likely to push new laws to strictly regulate Facebook, said Reuters. Anticipating such a move, the company has already said it favors new legislation that would make social networks disclose who is behind political ads, much as TV and radio stations must already do.
Tighter regulation of how Facebook uses its members' data could affect its ability to attract advertising revenue, its lifeblood.
London-based Cambridge Analytica, which has counted US President Donald Trump's 2016 campaign among its clients, has disputed Facebook's estimate of the number of affected users.
Zuckerberg is expected in his testimony to recognize a need to take responsibility and acknowledge an initial failure to understand how many people were affected, a person briefed on the matter, who asked for anonymity, said on Sunday.
The Facebook chief said in a conference call with reporters last week that he accepted blame for the data leak, which has angered users, advertisers and lawmakers, while also saying he was still the right person to head the company he founded.
On Friday, Facebook backed proposed legislation requiring social media sites to disclose the identities of buyers of online political campaign ads and introduced a new verification process for people buying "issue" ads.
The steps are designed to deter the kind of election meddling and online information warfare that U.S. authorities have accused Russia of pursuing, Zuckerberg said on Friday. Moscow has denied the allegations.