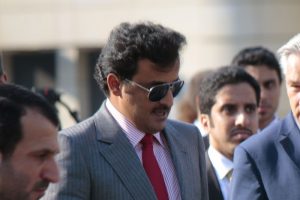 The United States FBI is helping Qatar to investigate the source of an alleged "hack" of state media which sparked diplomatic tensions in the Gulf, a source with knowledge of the matter told Agence France-Presse on Friday.
An FBI team has been in Doha for the past week after the Qatari government asked for US help following the claim of an unprecedented security breach by hackers last month, the source told AFP.
Doha launched the probe after accusing hackers of publishing false remarks attributed to Emir Sheikh Tamim bin Hamad Al-Thani on the Qatar News Agency website last month.
The stories quoted him questioning US hostility towards Iran, speaking of "tensions" between Doha and Washington, as well as comments on Hamas.
Qatar has so far given no indication of where the alleged cyber-attack, which happened on 24th May, originated.
"American support was requested and a team sent which has been in Doha since last Friday, working with Qatar's interior ministry," the source said.
Two other unnamed countries are also helping with the probe, while results of the investigation could be released as early as next week. Qatar has said it would publicly announce the results of the investigation.
Regional powers including Saudi Arabia and the UAE have used the comments to demonstrate that Qatar is out of line with Gulf foreign policy, especially regarding Iran.
Media organisations in several countries in the region reported the emir's comments as fact, despite an official denial by Qatar.
Qatari broadcasters and websites were blocked in several countries after the alleged comments were reported.