Finesse, today has entered into an agreement with Barracuda, a leading provider for cloud-enabled security solutions, to provide its customers with easy-to-deploy cloud security solutions. Through this agreement, Finesse's expertise in digital transformation will be complemented by the power and simplicity of Barracuda's cybersecurity solutions portfolio, enabling Finesse customers to reduce cybersecurity risk on their digital journeys.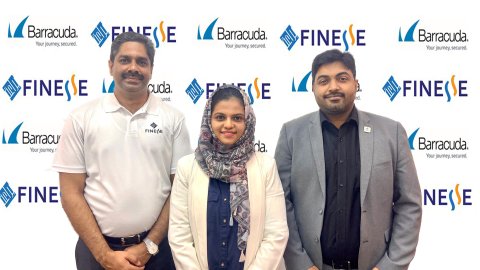 Finesse delivers digital transformation solutions to over 350+ customers in industries like BFSI, healthcare, energy, education, and government. Barracuda offers enterprise-grade security solutions that protect employees, customers, their data and applications on the cloud, from a wide range of threats through their easy, comprehensive, and affordable solutions for email protection, application and cloud security, network security, and data protection. Through Barracuda's portfolio of products, Finesse will offer regional customers the ability to visualise, segment, and protect their cloud security structure, as well as respond seamlessly to zero-day threats by integrating Barracuda solutions into their existing security ecosystem.
"We are excited to add Barracuda's portfolio", says Shahanavas Mohammed Shafi, Business Development Manager. "Finesse is dedicated to ensuring our customers have access to the latest and most secure technology. Barracuda is a global leader in cybersecurity, their products will help our customers with the tools and expertise to safeguard their employees, data, and applications from wide range of threats".
Eljo J P- Director and Chief Business Officer Finesse, expressed excitement about Barracuda joining its portfolio: "With Barracuda, Finesse can offer its customers in the region a Cybersecurity suite that is easily deployable, highly secure, and simplifies the deployment of digital security products in complex environments. This also means we have access to cybersecurity experts who can solve any threats quickly and efficiently".
"Cybersecurity is now central to the successful digitalisation of the modern enterprise. With their expertise as a trusted digital transformation partner to the most prominent regional enterprises, Finesse is perfectly positioned to empower its customers to realise the full potential of Barracuda's market-leading cybersecurity solutions. We are excited to work with Finesse to help solve the most pressing security challenges UAE organisations face with solutions that win back time for IT teams and enable them to maintain focus on innovation", said Chris Ross, SVP International sales at Barracuda.