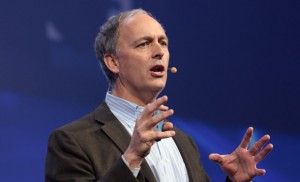 Forrester founder and CEO George Colony has touted the shift from IT to business technology and urged CIOs to get closer to their marketing colleagues in the age of the customer.
Speaking at Forrester's CIO Forum in London and in an in-depth discussion afterwards with CIO and Christine Overby, Forrester vice president and practice leader of digital and marketing leadership, chairman Colony said that "the only way forward is for the CMO and CIO to be highly co-operative".
"In many decades of experience I've noticed companies are not able to build customer-influencing, or customer-winning technology without that very close collaboration between the CIO and CMO," he said.
"I think there's perhaps about 10 percent of companies that do this well, and that figure is trending upwards because the pressure is now high on those roles to connect.
"Some industries are well ahead of others, retail and media being the leaders, with the least astute being food, transportation and manufacturing – but there is also very high variation in these sectors."
Colony cited the poor perception the IT function has in the eyes of other parts of the business, with Forrester research showing that 32 percent of marketing executives actually holding the view that the CIO was hindering business success.
Therefore, he said, IT needed to change in order to stay relevant.
"IT was blue collar technology," he said. "Business technology is more white collar. CIOs must move away from IT – from the fixing role of putting the fires out – and focus on the customer."
Overby noted how in some sectors where technology and analytics were pervasive IT had even infiltrated marketing. "The CMO of Capital One actually has an IT background," she said.
Colony said that because those who get the technology and employees who truly understand the customer are so rare, it's unlikely that roles with the dual skill sets will prevail and instead collaboration between business units should be the focus.
"Let's imagine you vaporise business technology and the CIO," Colony said. "Marketing will inevitably mess up the technology.
"But vice-versa, if you were to give marketing to the IT groups then they would mess up the customer side. They need to work together on this because there are different areas of expertise required, but IT as it's currently constituted will not be able to do this well.
"And I think it's very possible that future CIOs could even come from a marketing background."