The Dubai Taxi Corporation, DTC, at the Roads and Transport Authority, RTA, has embarked on the installation of interactive screens and free Wi-Fi in a further 700 taxis in Dubai Marina, JBR, and Downtown areas.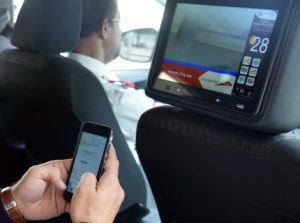 The step, which marks phase II of the service project, will raise the total number of cabs fitted with interactive screens to 1,314, the equivalent of 26 percent of DTC's total fleet comprising more than 5,000 vehicles. The move is part of DTC's commitment to providing the best services to customers.
Dr. Yousef Mohammed Al Ali, CEO of the RTA's Dubai Taxi Corporation, said, "DTC has set a clear excellence-based approach in all projects and initiatives conforming to the highest international standards. Adding 700 taxicabs under phase II of the installation of interactive screens and smart and free Wi-Fi service project will further promote the transport and innovation technology in the emirate of Dubai."
He added, "These smart touch screens enable users to browse promotional ads of RTA services, and inform visitors and tourists about key tourist destinations in the emirate of Dubai, not to mention the newly introduced service that enables users to sort out their future journeys in advance."
"To further ensure happiness in Dubai, these screens include passenger satisfaction surveys, which are effective tools in upgrading taxi services. Such endeavours echo the directives of our leadership that call for developing innovative solutions for future mobility issues, and transforming Dubai to be the smartest city worldwide," concluded the CEO of Dubai Taxi Corporation.