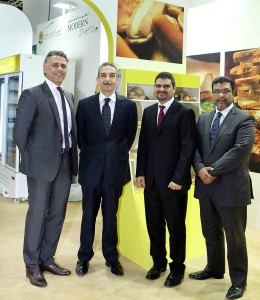 Fujitsu has announced that Modern Bakery in Dubai has selected the SAP HANA platform running on Fujitsu Power Appliance for a strategic project to update the bakery's IT infrastructure.
The project is designed to provide real-time insight into the business data and financials that can be critical for a business in perishable products.
Modern Bakery is one of the first companies in the region to select SAP Business Suite software powered by SAP HANA, and Fujitsu hopes the implementation will illustrate that the benefits of its infrastructure running SAP HANA is not limited to larger organisations.
Modern Bakery operates fully automatic and semiautomatic production lines. It produces over 1,000 products, serving thousands of stores across the Middle East. The firm decided to invest in a real-time platform to manage sales, financial and other business processes.
With the implementation, Modern Bakery hopes to have real-time insight into what is selling and which ingredients are close to reaching their expiration dates.
"We chose Fujitsu based on its comprehensive portfolio of infrastructure solutions and long experience working with SAP solutions," said Dr. Fawaz Al Bahri, CEO & Managing Partner, Modern Bakery. "Fujitsu's end-to-end consulting and our ability to remotely use the Fujitsu Global Demo Center demonstrated how the implementation of SAP HANA could be used to help us achieve our business goals. Most of all, we value the fact that Fujitsu intends to tailor its offering for us based on our individual needs."
Fujitsu says that with the aid of its end-to-end consulting, and using remote access to the Fujitsu Global Demo Center to view an initial demo of SAP HANA, Modern Bakery was able to gain a clearer picture of how the solution is expected to accelerate its reporting and business processes.
"Many small and midsize enterprises have the agility to flexibly react to changing conditions," said Farid Al Sabbagh, Managing Director, Middle East, Fujitsu. "However, the vast amount of data and complex queries often prevents them from getting instant insight into the data to take advantage of this organisational flexibility. For ambitious midsize companies like Modern Bakery, Fujitsu's solution for SAP HANA can provide instant insight into data with the push of a button, thus aiming to provide a solid base to make decisions that can have immediate impact."