Anyone wanting to benefit from the opportunities provided by digitalisation needs intelligent IT infrastructures equipped to cope with this dynamic growth. Datwyler's Smart Modular Data Centres are ready to take on the huge amounts of data generated by even simple enterprises' IoT, automation, 5G, robotics and artificial intelligence – which means being able to benefit from many new data processing applications and business models.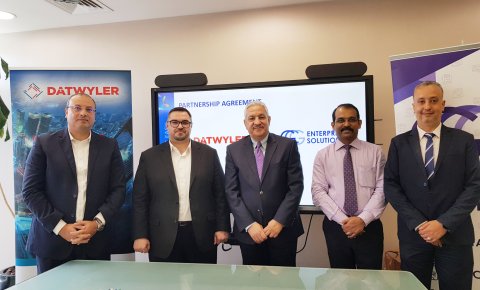 Datwyler has developed the Smart Modular Data Centre to fit for edge computing architecture. It is part of Datwyler comprehensive portfolio that supports organisations worldwide on their digital transformation.
The solution is fully compliant with the international standards, totally tailored, prefabricated and integrated from Datwyler. It comprises all seven main categories such as power, cooling, fire detection and suppression, physical equipment, physical security, and environmental monitoring solutions as well as pre-terminated data centre cabling solution. It has a modularity with redundancy features which allow to configure the solution as a one-rack, multi-rack and even multi-module data centre solution. The potential expansion in future can be a plug and play with zero downtime.
This smart and modular data centre from Datwyler is equipped with both hot aisle containment and cold aisle containment which has dramatically improve the Power Usage Efficiency to 1.3, compared with the traditional data centres which have PUE of 2.5 and above. This new eco-friendly technology also decreases the data centre's carbon footprint.
The solution is smart enough to be fully monitored and controlled for single and multi-locations from one dashboard either locally or remotely. It is not only suitable for small scale business but also for large scale enterprise with branches in different locations where customers can easily manage their IT setup by using our smart service platforms. This is vital to achieve interconnectivity and reduce the complexity of managing multiple locations.
GCG Enterprise Solutions in partnership with Datwyler will fully support the customers on their way to successful digitalisation and meet the customer's specific needs and requirements.
"Partnering with Datwyler, a renowned Swiss brand with over 100 years of experience in the development and manufacture of products and solutions for the IT infrastructure, is our strategic way to enlarge our portfolio.  Their high performing solutions, unique value-added services with a combination of technical expertise offers great opportunities for us and our clients".
Naser Darwazeh, GM – GCG Enterprise Solutions
No doubt, having a comprehensive end-to-end solution will surely benefit customers in terms of obtaining cost-effective solutions, easier communication between all interested parties and quicker project turnaround. Datwyler along with GCG will continue to be the trusted advisor in continuing development of the customer's IT infrastructure.
"As Datwyler, we are glad to collaborate with GCG Enterprises Solutions. This partnership is one of a significant factors in expanding our offerings in delivering holistic IT infrastructure solutions for multisite, campus networks, smart factories, etc. which also leads to stronger value-added services to many customers in the United Arab Emirates".
Asem Shadid, Managing Director MEA – Datwyler