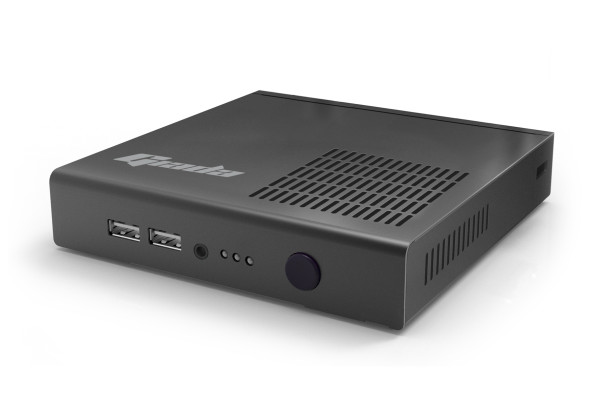 Giada Technology, has announced an update of its compact mini PC – i200, which is specially designed for industrial application in financial services, health care, and retail.
The i200 helps the industrial users to enhance control and manageability and simplify the processing procedure, thus saving on operating costs. Compared to common PCs in the market, Giada's thin client has a more specific configuration, precisely in line with the industrial needs for security and energy conservation.
Featuring an ultra-compact size –130mm x 128.5mm x 26mm, the i200 offers unprecedented value in its size category. Adopting the 4th generation Intel CPU, it embraces higher performance and lower power-consumption. Both high-end and low-end configurations are optional based on different application demand. Compared to the ARM architecture-based thin client, the i200 with Intel processor configures itself to be more compatible with software accompanying protocols and technologies.
The i200 is equipped with one SO-DIMM slot, which supports the installation of up to 8GB of DDR3-1333 RAM. HDMI version 1.3 with support for HDCP as well as Display Port 1.1 are provided for dual video signal output. For the thin client, rich external interfaces are necessary. The i200 comes with Gigabit LAN for high-speed LAN connection with 1Gb/s data transfer rate, ideal for seamless internet connection and for audio and video streaming.
Moreover, what distinguishes Giada i200 from the ordinary thin client on the market is that it can fulfill different demands for different industries. Take the financial industry for an example. It is essential to have all peripheral devices (such as ID card readers, signature panels, password input keyboard, evaluation panels etc.) as well as virtualisation and other office software operate smoothly. That requires high performance which is a big challenge to the ordinary thin client. However, Giada i200 provides a perfect solution for this.
In addition, the i200 adopts Giada's self-developed JAHC technology, including the functions of RTC Wake Up, Auto Power On after AC Loss and IR Remote Control before the OS on, which considerably reduces the maintenance cost.
The i200 is equipped with a Phoenix EFI BIOS with support for an ACPI interface. The systems are fully compatible with the majority of popular operating systems including Microsoft Windows XP, Windows 7, Windows 8, and Linux.