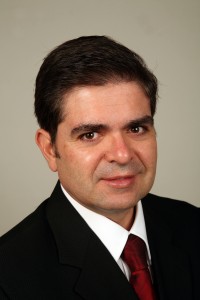 1. What are your company's key products and services?
SafeNet is the largest company in the world exclusively focused on the security and protection of high value information, intellectual property and digital identity. The company employs its encryption technology to protect data when they are moving through networks, used, shared or in storage. SafeNet products are certified to the highest security standards. SafeNet offers both software and hardware systems to organisations' increasing security challenge, helping them to protect:
Top Secret, classified government information
Critical business data
Communication
Financial transactions
Digital identities
High-Value Software
Data Protection Solutions:
Strong Authentication
Cloud Security
Enterprise Key Management
Secure PKI
Compliance
Financial Data Security
Software Rights Management Solutions:
Software Protection
Software Licensing Operations
Cloud Service Licensing & Management
Virtualisation Licensing
Electronic Software Delivery
2. Which product lines and services will it focus on at GITEX?
Moving to virtual datacenters or the cloud enables the utilisation of resources on-demand providing significant business benefits. However, these are coupled with challenges for the IT and security teams tasked with effectively and persistently meetings the organisation's governance, compliance, and data protection mandates in these environments. Therefore, one of our main products we will be showcasing at this year's Gitex will be the ProtectV.
ProtectV provides the industry's first comprehensive high-assurance solution for securing data in the virtual datacentre and the cloud, enabling organisations the freedom to migrate to virtual and cloud while maintaining full ownership, compliance and control of data.
ProtectV bridges the physical to virtual security gap providing adaptive virtualised security controls that allows organisations to secure their data and maintain a consistent security policy as they transition to virtual datacentres, such as VMware vCentre, and into the cloud.  Whether using Amazon Web Services EC2 for easy-to-scale capacity, or taking advantage of Amazon VPC to run AWS resources in a virtual network, ProtectV ensures cloud-ready security.  With complete encryption of virtual machines and storage volumes coupled with pre-launch authentication, security teams can properly isolate sensitive assets and maintain ownership of their data always —even in shared, multi-tenant clouds.
Another product which will be showcased at Gitex is the StorageSecure. This is an all-inclusive, secure hardware storage encryption solution that connects to 1Gbe or 10Gbe Ethernet networks over CIFS and NFS and protects shares, folders and files on any NAS filers regardless of vendor. StorageSecure encrypts information based on defined business policies and securely stores the information without impacting ongoing operations or reducing information availability.
StorageSecure securely stores all encryption keys and their associated parameters within hardware. Keys can also be shared with KeySecure, centralised key management solution that securely stores StorageSecure keys but also other heterogeneous encryption keys for truly centralised key management.
3. What benefits do your products and services bring to regional customers?
Safenet is one of the largest data security companies in the world, and is trusted to provide data protection solutions to the most sensitive data for market-leading organisations around the globe. Our data protection solutions ensure high value information is secure throughout its lifecycle, providing data security from the datacentre to the cloud. Strong of its three decades of history and experience, SafeNet has a strong clear vision of future security needs, gained through years of continuous analysis and study of security issues in the cyber space. Our expertise means we can offer regional customers the latest advancement in technology translated into solutions that are proven to work.
We protect the most money that moves—more than 80% of the world's intra-bank fund transfers and nearly $1 trillion per day.
We are the first to secure access to the cloud—with the industries only centrally managed identity federation solution for SaaS applications.
We protect the most classified information—with data security products found in every vehicle, aircraft and ship in the US military.
We are market leaders in safeguarding PKI—#1 in market share for PKI smart cards and USB tokens and award-winning hardware security modules.
We have award-winning data security solutions for financial services—including the industry's first secure, web based PIN issuance and management solution.
We protect the most high value software—more than 100 million license keys protecting the most software licenses in the industry.
We employ the most crypto experts in the industry—550 encryption engineers developing cutting-edge technologies and patents.
We have the most certifications—more FIPS 140-2 and FIPS 140-1 certifications than any company in the industry.
We are the first to monetize the cloud—providing the industry's first and only software licensing and entitlement management solution for ISVs, delivered from the cloud for the cloud.
We are trusted around the world—providing data protection and data security solutions to more than 25,000 customers across 100 countries.
4. Why is your company exhibiting at GITEX Technology Week?
Technology exhibitions such as GITEX Technology Week are very important for the IT & Technology industry. Businesses plan their product releases and consumers hold their purchases until the event to reap benefits from attractive promotions and prices. We are happy to be taking part in GITEX this year and intend to use GITEX 2012 to launch into another year of fantastic growth in the Middle East where we will showcase our market expertise and latest range products as well as meet a number of existing and potential customers/partners from across the region. GITEX will serve as a reminder that the Middle East boasts one of the fastest growing IT markets in the world.
5. What does your company hope to achieve by appearing at GITEX Technology Week?
GITEX remains the number one IT exhibition in the Middle East and the place to be for any active vendor in the region. This would be a great opportunity to showcase our cutting edge products and solutions for our existing as well as potential customers in the region. Our participation also helps the company expand further in the market and meet with distribution partners.
6. What are your company's main recent achievements in the Middle East market?
The revenue in MEA has grown exponentially over the past few years. It has tripled between 2007 and 2010 and the YoY growth between 2009 and 2010 alone was very strong and well above 50%. Data Protection requirements are definitely growing across the region and very much in line with the size and robustness of its economy Saudi Arabia keeps proving to be the largest and fastest growing market in the MEA region, which will most probably remain the case for the foreseeable future. Although the global economy is experiencing a slowdown, in the ME we haven't been really affected by this negative trend and that's why we will soon have further and more specific news on how the company is planning to meet a growing demand for our solutions.