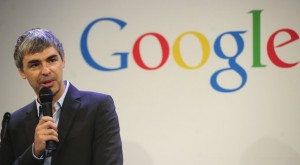 Google CEO Larry Page met with officials from the FTC this week in an attempt to convince regulators that the company hasn't broken antitrust laws, reports say.
Page met with agency officials in Washington on Tuesday to defend the company's business practices, which have been the focus of an ongoing FTC investigation, according to a report posted on Bloomberg.com.
The Bloomberg report says that Google officials have been in settlement talks with the FTC for the past week or so.
The FTC last spring hired former federal prosecutor Beth A. Wilkinson to take over the antitrust investigation into Google. The addition of Wilkinson, who played a key role in convicting Timothy McVeigh of the Oklahoma City bombing, moved the investigation to a higher level, observers say.
The wide-ranging FTC antitrust investigation is looking into Google's business practices and whether it uses its dominant position to muscle smaller firms out of various markets.
A key part of the investigation is focused on whether Google manipulated its search results so competitors and their products appear in less favourable slots.
Google didn't respond to a request for comment on the reported Page meeting with FTC officials.
Earlier this week, Sen. Ron Wyden (D-Oregon) criticised the agency in a letter to FTC Chairman Jon Liebowitz for allegedly leaking information about internal discussions regarding Google's probe.
"It is also alarming that these leaks indicate that the FTC is focusing on allegations of monopoly in the online search industry," wrote Wyden.
"The Internet economy is the most highly competitive, innovative and dynamic in this nation. There is no question that the market is continuing to ensure the full range of consumer choice without government intervention," Wyden added.