CNME Editor Mark Forker is reporting LIVE from 'Next 23 in San Francisco, where Thomas Kurian, CEO of Google Cloud, has heralded a new dawn for cloud, one that will be driven by generative AI.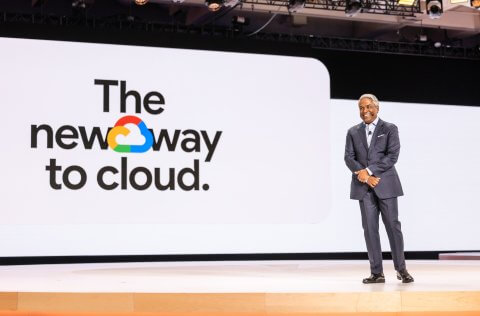 Thousands of customers, partners, analysts, and international press have descended on The Moscone Centre in San Francisco, as Google Cloud kicks off 'Next 23.
It's the first in-person Google Cloud 'Next event since 2019.
However, back in 2019, Thomas Kurian had recently just been appointed as the CEO of Google Cloud, but as Sundar Pichai, CEO of Google and Alphabet said when addressing the crowd, he was excited about his vision for Google Cloud.
"The last time we were here in 2019, Thomas presented his vision for Google Cloud, and I was so excited about his plans, and over the last four years, Thomas and his team have built Google Cloud into one of the top enterprise companies in the entire world," said Pichai.
Before handing the floor over to the Google Cloud CEO, Pichai highlighted the impact some of the major announcements such as Vertex AI and Duet SI are going to have for customers.
"I believe that we are only really starting to scratch the surface since when we made Vertex AI available. Our objective is to equip our customers with access to the right model for them to create and innovate. In terms of Duet AI, we already have 1 million users, and today, we are delighted to announce the general availability of Duet AI in Google Workspace," said Pichai.
Pichai concluded his address by declaring that the company will continue to be bold and responsible, and said they are imparting on a 'golden age' of innovation.
Thomas Kurian kicked off his keynote by saying that the shift to AI will represent one of the most profound changes in our lifetime.
He reiterated Google's mission, which is to help every person to be able to use AI.
"Our generative AI products are delivering real results in every single discipline. We want to help every person use AI, and we want to bring together the whole AI ecosystem so they can succeed in adopting AI," said Kurian.
Kurian outlined how customers were increasingly drawn to their world-class infrastructure, revealing that Yahoo is migrating 500 million mailboxes and 550PB of data to Google Cloud as part of their efforts to improve their e-commerce experience, whilst Mahindra Rise has utilised the capabilities of Google Cloud to help them sell over 100,000 SUVs.
Kurian highlighted the impact some of their new products are having in terms of delivering productivity and operational gains for their customers.
"Today, we are launching a new product called GKE Enterprise, which has been designed to enable multi-cluster horizontal scaling. Customers have already seen an increase of 45% in productivity gains, whilst reducing software deployment times by over 70%," said Kurian.
In addition to this, he also spoke of his excitement at their partnership with NVIDIA.
"We're also announcing the availability of our A3 VMs, based on NVIDIA's latest 8100 accelerator GPUs. A3 offers 3 times faster training and 10 times greater networking than the A2, which is ideal for managing incredibly demanding AI workloads. We are also introducing the titanium system, a next-generation tiered offload architecture that underpins the performance advances we have made in our AI infrastructure," said Kurian.