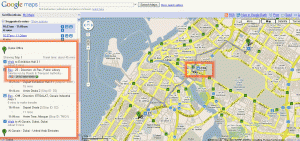 The launch of Google Maps in Apple's App Store last week has boosted iOS 6 adoption by 29 per cent, new data reveals.
When iOS 6 launched in September, many iPhone, iPad and iPod touch users decided not to update to Apple's new mobile operating system because of the widely criticised Maps app, which replaced Google Maps as the native mapping service on Apple's devices.
Of the respondents to our poll of 2242 Macworld readers around the time of iOS 6's launch, 19.6 per cent said that they would be sticking with iOS 5 until Google Maps became available on the App Store.
On Thursday, those readers got the good news that Google Maps had arrived, and Google has announced that the app was downloaded more than 10 million times in just 48 hours.
Initially, data collected by Chitika Insights showed just a 0.2 per cent increase in iOS 6 adoption within the first 24 hours of Google Maps for iPhone's availability.
But the latest data from mobile ad exchange MoPub suggests that consumers waited until the weekend to update their Apple devices to iOS 6, with a total growth of 29 per cent recorded between Tuesday 11 December and Saturday 15 December. MoPub gets its data from its one billion ad impressions a day across 12,000 apps and dozens of networks.
Apple Maps was blasted upon launch for its inaccuracies, poor quality imagery, lack of transit directions and more, which led CEO Tim Cook to issue a public apology little more than a week after the app was launched. Cook said that Apple's Maps would improve with time as users reported problems, but advised users to turn to Microsoft's Bing, Google's web app, or other mapping services in the meantime.
Despite the warm welcome received by Google Maps for iPhone last week, though, one analyst has said that the app's return to iOS may not be permanent, and that Apple may decide to decline future iterations of the app when its own Maps app has been improved.
That will leave a significant portion of Mac users without the means to run an up-to-date Java next year. According to Web metrics company Net Applications, approximately 41% of all Macs still run versions of OS X older than Lion.
Apple will presumably issue the final OS X patches for Java 6 in February alongside Oracle's update.
But some security researchers are unconvinced that upgrading to Java 7 is a good idea.
On Tuesday, Polish researcher Adam Gowdiak, who reported scores of Java vulnerabilities to Oracle this year, told the IDG News Service, "Our research proved that Java 7 was far more insecure than its predecessor version. We are not surprised that corporations are resistant when it comes to the upgrade to Java 7."
Thomas Kristensen, chief security officer at Danish vulnerability management firm Secunia, was more optimistic about Java 7's security prowess, saying in an interview with Computerworld yesterday that it was "pretty much equal to Java 6 out of the box."
But Kristensen did criticise Java 7.
The Java 7 Update 10 released last week included several new security options that let users disable Java in all browsers, or set privileges for signed and unsigned Java apps.
Kristensen called the changes "a step in the right direction" for the attack-plagued Java, but argued that Oracle should have turned on the new features by default rather than leave them in users' hands.
"They're difficult to understand, they're more complicated than similar features in other products. You have to know how Java works, the nature of Java, you have to understand signed and unsigned [apps] and the source of those apps," Kristensen said. "A more restrictive [environment] should have been applied by default rather than depend on users actively choosing them."
Lucian Constantin of the IDG News Service contributed to this report.