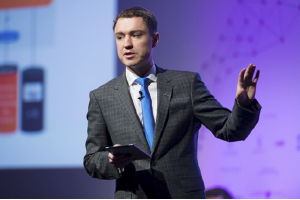 Global CIOs urged Middle East enterprises to recruit higher level strategists to drive digital transformations, during GITEX Technology Week 2015's conferences programme.
As the Internet of Things era advances in the Middle East, Frost & Sullivan predicts there will be 50 billion global connected devices by 2020, spawning new services, data streams, and control over customer and supplier products.
However, Middle East enterprises face increasingly complex business processes. Global and regional experts have debated how best to embrace digital disruption at the GTX Ignite conference and GTX Innovation Tech Talks, free to attend sessions with over 100 sessions and 150-plus global futurists.
"Over the next five years, business leaders in boardrooms across the Middle East will face a tough challenge in the digital economy, requiring them to disrupt themselves or lag behind," Jonathan Becher, Chief Digital Officer and Head of SAP Digital. "They need to simplify operations through real-time analysis of data from different divisions, such as HR, logistics and marketing."
Chris Brown, Director of Innovation, Vodafone Global Enterprise, emphasised collaboration with multi-national companies, giving examples of how Vodafone has opened new opportunities and fostered an innovation culture.
Addressing Smart Cities, government leaders including Estonian Prime Minister Taavi Roivas, Dr Aisha Bin Bishr, Assistant Director General, The Executive Office, Dubai, and Mayor Wade Brown of the City Council of Wellington, New Zealand shared the key pillars for Smart City framework, and the power of public-private partnerships.
Supporting innovation in oil and gas and aviation, Michael Gibbs, CIO, BP and Dr.Jassim Hajji, CIO, Gulf Air explained how real-time insights can transform businesses and enhance the customer experience.
Oliver Bierhoff, General Manager, German National Football Team, spoke on how Big Data analytics helped the team win 2014 World Cup Brazil.
For more information on the 35th GITEX Technology Week – running from 18-22 October 2015 at the Dubai World Trade Centre – visit: www.gitex.com.