The Hamdan Bin Mohammed Smart University (HBMSU) is putting the spotlight on its 'smart' learning solutions, including the landmark Smart Campus initiative, at GITEX Technology Week. The university's participation highlights anew the university's commitment to the UAE's ongoing smart transformation efforts.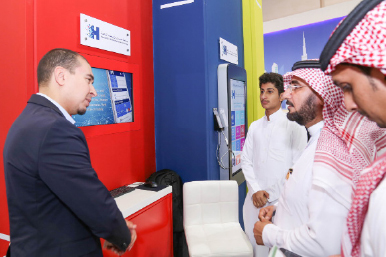 The Smart Campus leads other key smart learning solutions being highlighted during GITEX. Accessible via PC and mobile devices, the Smart Campus is a one-stop-shop for the needs of HBMSU learners and faculty. It works by seamlessly automating and integrating all relevant services, applications and subsystems – whether open source or commercial – to ensure a smooth, enjoyable and fruitful user experience. Chief of its features is a platform enabling social communication, collaboration, and learning among all members of the university community.
Dr. Mansoor Al Awar, HBMSU Chancellor, said: "Our Smart Campus and other smart learning solutions have significant implications for millions of learners in the Arab region and beyond. All of these solutions are learner-centered and involve active restructuring for genuine collaboration among learners and deep understanding of given learning materials."
Other HBMSU's smart learning solutions that are also on showcase include the e-learning course digitization, which converts conventional courses to smart learning materials accessible on any device; virtual classroom, an online classroom that allows learners to communicate with their fellow learners and instructors; and virtual lab, which enables learners to log on remotely from different physical locations to use a dedicated pool of computing resources for experimenting purposes.