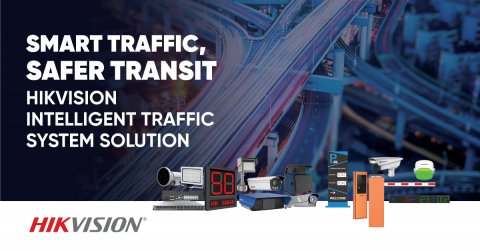 As city populations grow, so do car ownership and the burdens on urban traffic systems. The key objective remains keeping everyone moving safely and responsibly on the road, optimising the use of available transportation and parking resources, and responding to traffic and security events as swiftly as possible.
Hikvision's Intelligent Traffic System helps alleviate these concerns altogether. It effectively regulates traffic order by detecting and managing various road violations, such as running the red light, speeding, improper lane usage, illegal parking, etc. It also helps optimise traffic flow and ease gridlock by adjusting red and green light durations according to actual road conditions. An ITS guidance screen can be placed near congested areas to display alternate route information to keep traffic under control, reduce driver frustration, and relieve officers from having to manually directing traffic in dangerous conditions.
At entrances and exits, Hikvision's ANPR Cameras automatically recognise a vehicle's plate number and display it on the control center screen. The Authorised List function with barrier integration enables quick and fluid passing of registered vehicles, preventing congestion at entrances and exits and improving traffic efficiency. The Parking Guidance System combines deep learning algorithms, video monitoring, and information dissemination technologies to give drivers dynamic, real-time information about parking availability within controlled bays. The system helps drivers find the closest parking spaces available. Then, by simply entering their plate number in full or in part, the vehicle can be easily located on the floor map as well as the best route to it.
Intelligent Traffic System ITS Camera
Traffic cameras make use of a deep learning algorithm for ANPR, vehicle feature recognition, and traffic violation detection. With a built-in GMOS sensor, traffic camera images do not smear and perform well in low illumination scenarios.
The All-Rounder ITS camera – designed to improve road safety and optimise traffic flow. As the name implies, the camera encompasses different skills and abilities, boasting speed detection, traffic violation detection, automated plate recognition, and vehicle attribute analysis in one housing.
It is designed and developed with this multi-dimensional concept in mind It integrates three otherwise separate modules in one unit with no compromise on performance, making the camera neat and flexible to be deployed for demanding environments, all in an easy and cost-effective manner.
Hikvision offers much more features for the Intelligent Traffic System, learn more.
Link: https://www.hikvision.com/mena-en/products/ITS-Products/?q=its%20products&position=2