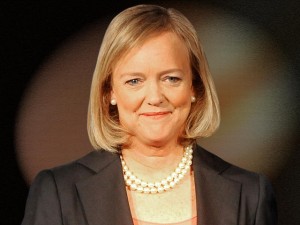 Hewlett-Packard CEO Meg Whitman said this week that the company has reached the halfway point in its restructuring, with 15,000 employees left to cut to meet its layoff target. 
HP last May announced plans to reduce its workforce by some 27,000 people out of a staff of 350,000. The company is using layoffs and early retirement incentives to reach its goal by the end of next year.
At the Morgan Stanley Technology, Media & Telecom Conference this week, Whitman talked about the challenges and opportunities at HP, but also praised a predecessor, former HP CEO Mark Hurd, for some of the steps he took.
Whitman said that something that Hurd did "very well" was to centralise global functions, including human resources, information technology, finance and legal. "Kudos to Mark Hurd for doing that," she said.
Whitman was appointed HP CEO in late 2011. She replaced CEO Leo Apotheker, who held that position just under a year. Hurd left in 2010 and is now is co-president at Oracle.
One year ago, Whitman was a little more critical of the condition of HP. Without mentioning Hurd, she said the company had "underinvested in innovation" for the last several years.
HP has seen declining profit and revenue, but said in its most recent quarter that its turnaround is making progress.
Whitman said getting costs and revenues aligned is the first step in improving the company, but "exciting" investors and HP employees "will come down to innovation and absolute growth."
"Contrary to what I had heard when I came to HP, innovation is not dead at this company," said Whitman, according to a transcript of her remarks. HP has increased R&D spending and is close to releasing new products, in particular its low-energy Moonshot servers that use ARM and Atom chips.
Whitman took exception to the notion that the PC is dead, but also pointed out that it calls its PC division the Personal Systems Group, which encompasses a variety of devices with a variety of operating systems.
HP recently introduced its first Chromebook and announced its first Android tablet.