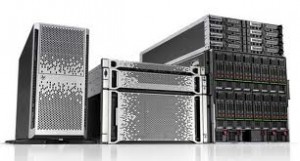 HP announced the launch of the next generation of its ProLiant servers, called Gen8, boasting a new architecture that is set to reduce overall maintenance and held control power costs inside data centres.
"Gen8 brings together hardware and software elements to ease the main challenges faced by IT teams across the world today. The ProLiant Insight architecture automates a lot of processes in order to give back almost 30 days to an IT team for innovation, instead of routine maintenance. At the same time, it helps in better energy management, while doubling data centre capacity. In fact, customers can expect only five months to ROI on these servers," said Mark Potter, senior VP and GM for Infrastructure Software and Blades at HP Enterprise.
The automatic updating and server load-balancing features will help save millions of dollars over a three-year span, HP said.
"The Gen8 servers and the architecture integrate design innovations that have been put through based on active client feedback. Two of the key ones are Smart Socket and Smart Drive. Smart Socket reduces the potential for human error in the motherboard, and Smart Drive aids in preventing the IT team member from pulling out an active drive, which could corrupt data. And those are just two of the innovations in this new server range," said Potter.
One of the new power-saving technologies is HP's 3-D Sea of Sensors, where over-utilised servers are identified based on real-time location, power, workload and temperature data. Based on the data, system administrators can redirect workloads to ensure that servers are operating at the most peak efficiency.
Thermal Discovery Services, incorporated in the servers, will help track power usage and improve efficiency of the cooling systems. According to HP, over a three-year period, the new technologies can bring annual energy savings of up to $640,000. Gen8 servers also support up to 50% more internal storage drives compared to its predecessors..
The Gen8 servers will become generally available in March. The announcement was made at HP's Global Partner Conference 2012, taking place in Las Vegas.
HP also spoke at length on changes to its channel strategy, and integration of partner programmes with its cloud portfolio at the HP Global Partner Conference.
Sathya Mithra Ashok is reporting live from the HP GPC 2012 conference in Las Vegas. Follow www.twitter.com/computernewsme for live updates, and check www.cnmeonline.com for stories from the floor.