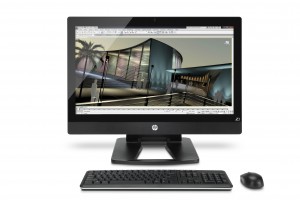 HP today unveiled the Z1 Workstation with a 68.6 cm (27") diagonal display, featuring Intel Xeon procesors, NVIDIA Quadro graphics and support for one billion colours. The Z1 offers users a snap-open  display so they can easily swap parts and make upgrades without any tools.
According to the company, the Z1 is built for computer-aided design, digital media, entertainment, architects, education and independent professionals. It offers a full range of workstation-class graphics cards and processors, and is thoroughly tested and certified to work with today's leading industry applications.
"The revolutionary HP Z1 creates a new category of workstations elevating the standard for design, performance, upgradability and serviceability," said Kobi Elbaz, director, Commercial Solutions, HP Personal Systems Group EMEA. "With its game-changing design and an experience that optimizes visual and computing performance, the HP Z1 will help attract new customers and expand our market leadership."
THe Z1 features professional NVIDIA Quadro graphics, ECC memory, quad-core Intel Xeon processors, independent software vendor solutions and whisper-quiet acoustics. Users can choose from a variety of storage types, including 7.2K and 10K SATA, SSD, optional RAID configurations, removable drives (AMO), a multiformat media card reader and optical drives including a slot-load Blu-ray Writer.
The 27-inch white LED diagonal display supports more than 1 billion colours and features a wide, 178-degree viewing angle and an in-plane switching (IPS) panel. Front-facing dual-cone speakers and SRS Premium Sound offer high-fidelity audio.
According to HP, users can work remotely while still accessing the high-performance 2-D, 3-D, video and media-rich applications they count on. Reduces the time spent troubleshooting by providing a consolidated report of the workstation's hardware and software configuration that can be used to tune the workstation for specifically professional application workloads with just one click.