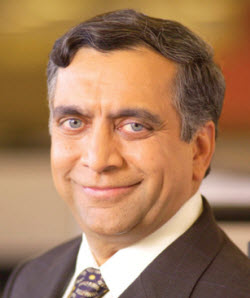 Hewlett-Packard Co. is to combine its PC and printer divisions into a single business unit in a move that will see Vyomesh "VJ" Joshi, the longtime head of HP's printer division, leave the company, according to a report published yesterday.
HP plans to announce the move later today, according to a story in the Wall Street Journal's All Things D blog, which cited unnamed sources. An HP spokesman said the company declined to comment on the report.
It would be the first sweeping change at HP since former eBay chief Meg Whitman took over as CEO last September. Whitman was brought in to right HP's ship after the company replaced two CEOs in a little over a year and appeared to lose its direction.
HP's Personal Systems Group, which makes its PCs and laptops, is the biggest division at the company, puling in $8.9 billion in revenue last quarter. The Imaging and Printing Group, traditionally one of its most profitable groups, brought in $6.3 billion last quarter. Together, the two groups account for about half of HP's total sales.
Under Tuesday's reorganisation, HP's Imaging and Printing Group will be subsumed by its Personal Systems Group, and the combined division will be led by Todd Bradley, the executive vice president who today runs the Personal Systems Group, All Things D reported.
Joshi, who has been at HP since 1980, will leave the company, the paper reported.
Former CEO Leo Apotheker announced a plan last August under which HP might sell or spin off its PC division. It was a controversial move in part because of the uncertainty it created for HP customers, and Whitman was quick to announce after she came on board that HP would keep the PC group after all.