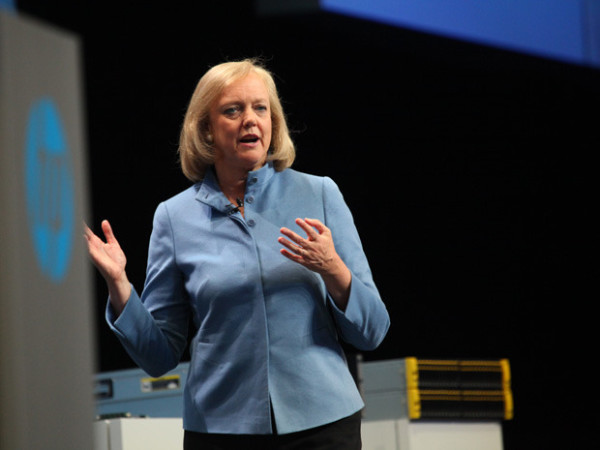 Hewlett-Packard has reported another quarter of declining profits and revenue, with its massive corporate split now less than three months away.
Revenue for the quarter ended July 31 dropped eight percent to $25.3 billion, while profit was down 13 percent to $854 million, HP announced recently.
It's the sixteenth quarter in a row that HP's revenue has declined, as the company continues to battle an ongoing shift from PCs to tablets and smartphones, and from on-premise IT equipment to the cloud.
Sales were down across most of its divisions, including PCs, printers, and services, though HP's enterprise products division reported some growth.
Revenue from that group climbed two percent from last year, with sales of x86 servers and network gear both picking up, HP said.
"The enterprise group performed very well in Q3," said CEO Meg Whitman in a conference call with analysts to discuss the results.
Still, HP's overall revenue fell short of what analysts had been expecting, according to a poll by Thomson Reuters. And its earnings per share of $0.47 were below HP's own forecast, brought down by costs related to the separation.
HP announced last October that it planned to split itself in two, in what will be one of the biggest corporate separations in history. It will be left with two companies each with more than $50 billion in sales – HP Inc., which will sell its PCs and printers, and HP Enterprise, which will sell its data centre products, technology services and cloud services.
The split will become official on 1st November, though HP has said it is effectively already operating as two separate companies.
"On 1st August we successfully split the processes and IT systems of the company," Whitman said. She called it a complex process that went well.
The company then "shut down" for three days at the start of the month to transition to its new, separate IT systems, she said.
HP says the split will allow each division to be more focused and able to react more quickly to the change in the market, but there's a good deal of skepticism about whether HP will really be any better off in two pieces.
The company has been hit by changes in the technology industry that have also rocked IBM, Dell and other enterprise IT vendors, namely the move among businesses towards cloud services and lower-cost types of hardware, and consumer preference for smartphones and tablets.
HP has been doing massive layoffs to save money and make itself more competitive. Under a plan started in 2012, it expects to have laid off 55,000 workers by the end of this fiscal year, and it has hinted that more layoffs will come when it splits in two.
Still, Whitman was upbeat in HP's earnings statement. "HP delivered results in the third quarter that reflect very strong performance in our Enterprise Group and substantial progress in turning around Enterprise Services," she said.
"I am very pleased that we have continued to deliver the results we said we would, while remaining on track to execute one of the largest and most complex separations ever undertaken."
According to Thomson Reuters, HP also issued its forecast for next quarter. It expects earnings excluding one-time charges to be between $0.92 and $0.98 per share. That's lower than the $1.00 per share analysts had been expecting.
Originally published on IDG News Service. Reprinted with permission from IDG.net. Story copyright 2022 International Data Group. All rights reserved.