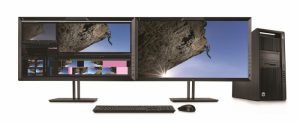 HP has announced a true Cinema 4K display, arming colour professionals with new features, like colour-critical accuracy and automatic calibration, to produce the films and animations of tomorrow. Designed in collaboration with top visual effect and animation studios, the new HP DreamColor Z31x Studio and HP DreamColor Z24X G2 displays are enabling artists, photographers and filmmakers to do what they do best – create – without having to worry about lackluster display performance, said the company.
"From the purest black to the most vivid rainbow of colors, our new DreamColor display for Cinema sets the gold standard for color accuracy and ease-of-use at a disruptive price point to outshine the competition," said Gwen Coble, director, Workstations, Thin Clients, Retail Solutions and Immersive Computing, EMEA, HP. "The new DreamColor Z Displays will be a gamechanger for studios and digital creatives who rely on color-critical accuracy and extreme performance."
The HP DreamColor Z31x Studio Display delivers abundant features designed for colour professionals, including an expansive colour gamut for remarkably vivid colours, innovation to deliver incredible blacks, a built-in colorimeter for self-calibration, and intuitive workflow and management tools. These features, along with HP product reliability, are critical for finishing editors, online editors, colorists, lighters, compositors, photographers, graphic artists and designers. The HP Z31x is crafted with a high-quality, custom panel and technology that allow users to see vivid colours, deep rich blacks, and professional level craftsmanship to withstand years of use.
The key features of the product include precise image quality from any viewing angle, reliable and accurate colour with an advanced built-in colorimeter capable of measuring and adjusting on-screen performance automatically or at scheduled intervals or on demand. It also boasts workflow accelerating features that allow users to create in Cinema 4K resolution, view in True 2K, and speed projects from concept to completion with onscreen markers and keyboard-based input switching between devices.
The HP Z31x image quality is delivered on a true 10-bit Real IPS panel with over 1 billion colours, including consistent on- and off-axis black levels. HP improved on this IPS technology – inventing new processes that allow for incredible deep blacks, minimal black lift and rich shadow detail.
The pop up colorimeter of the HP Z31x automatically calibrates the display on demand or on a regular calibration schedule and can even be scheduled to run off hours so creative juices aren't interrupted.  The built-in colorimeter can also be aligned with an in-house reference instrument for consistent accurate colors facility-wide. It  maintains perfect colour accuracy, and the display works in true 10-bit colour delivering HP's widest color gamut ever (99 percent of DCI-P3).
The built-in KVM of the HP Z31x can switch between two computers with a quick keyboard shortcut, allowing the user to share one display, keyboard and mouse between two computers. Many artists have two computers, a Linux box with their animation/compositing app and a Windows box with Adobe Photoshop or Internet access.  Users can minimise distractions with auto dimming front buttons and select between red lights for minimal impact to night vision, or turn off completely for a distraction free environment.