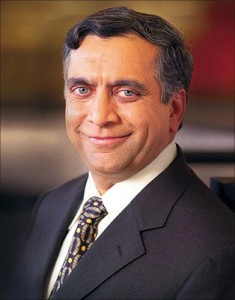 Partners who work with HP's imaging and printing group (IPG) should work to move up the ladder, and provide comprehensive solutions to customers, as the market for printing and associated services continues to grow.
According to Vyomesh Joshi, executive VP of the IPG group within HP, there is a $200 billion addressable market for printing that partners can target, and benefit from in the next couple of years.
"If you are doing just hardware, we want you to do services as well. If you are doing hardware and consumables, we want you to do services. And if you are doing all three of those already, we want to start looking at software. You have to constantly up the scale such that you are offering customers more integrated solutions, and you are also increasing your revenue and profitability, through higher margin solution provision," said Joshi. He was addressing HP's worldwide partner base at the company's Global Partner Conference in Las Vegas.
Joshi broke down the estimate of the overall market into printing, services and solutions around content digitisation. According to him, printing makes up the lion's sum of the market at an estimated $118 billion market by 2013, with services and content digitisation assessed to be $48 billion market by 2013.
HP is trying to help partners address the market, counting into consideration the key trends influencing it, across this spectrum.
"In printing, we continue to innovate and add to our printers to make them the consistent first choice for customers. Already any printer that is above $79 is web-connected and cloud-enabled. We are adding web services on top of this with the ePrint initiative. We are also working with the likes of Google and Apple to enable printing anywhere, anytime from any device through ePrint. It is up to you partners to convey the value of ePrint to customers," said Joshi.
On the services front, Joshi spoke about HP's managed print services, and emphasised on the 'experience' value to the customer.
"We can deliver everything through automation and remotely. And solutions around content digitisation are key to this," said Joshi.
He split solutions around content digitisation itself across office (at an estimated $28 billion market), marketing ($10 billion market) and production tasks ($10 billion).
"In the office, the main concern is to eliminate document management inefficiencies. Many vendors have attempted to do this in the past 10 years, and most of them have failed. This is because the only way to do this is to cover the entire spectrum from capturing, archiving and security, down to the output," said Joshi.
HP will cover this spectrum effectively through the Smart Doc SMB solution, which will be launched in the later quarters of 2012, according to Joshi.
"With this solution, partners can go to customers, offer to digitise all of their paper-based documents, have it stored, secured and managed in the HP cloud, till they need to draw from it and create active print-outs. It is a complete solution," said Joshi.
For the marketing market, HP will launch a Smart Marketing Suite in 2013, and address the production segment with the Smart Production Suite, which is set for launch around September 2012.
According to Joshi, these solutions are meant to empower partners help customers achieve higher efficiencies and capitalise on the content that they are producing with better printing solutions and services.
Sathya Mithra Ashok is reporting live from the HP GPC 2012 conference in Las Vegas. Follow www.twitter.com/computernewsme for live updates, and check www.cnmeonline.com for stories from the floor.