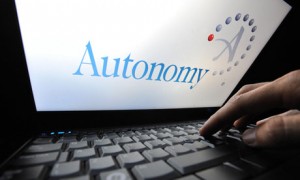 Hewlett-Packard's purchase of Autonomy is under investigation by the U.K. Serious Fraud Office, the company said in a regulatory filing ahead of its annual meeting where there are expected to be challenges to the re-election of Chairman Ray Lane and two board members.
HP said in November it was taking a US$8.8 billion charge as a result of what it called serious accounting improprieties at U.K. software company Autonomy before it acquired the firm in 2011. In December, HP said that it was informed a month earlier by representatives of the U.S. Department of Justice that it had opened an investigation relating to Autonomy.
"On February 6, 2013, representatives of the U.K. Serious Fraud Office advised HP that they had also opened an investigation relating to Autonomy," the company said in the filing on Monday.
The company previously provided information to the U.K. Serious Fraud Office, the U.S. DOJ and the U.S. Securities and Exchange Commission related to "the accounting improprieties, disclosure failures and misrepresentations at Autonomy that occurred prior to and in connection with HP's acquisition of Autonomy," and is cooperating with all three investigating agencies, HP said.
Autonomy founder Mike Lynch rejected all allegations of impropriety in an open letter to HP's board in November. "It was shocking that HP put non-specific but highly damaging allegations into the public domain without prior notification or contact with me, as former CEO of Autonomy," he wrote in the letter.
HP is involved in a number of shareholder suits, relating to, among other things, its November announcement of the charge relating to its Autonomy acquisition, it said in the filing.
Investor advisors are also asking for the removal of some board members and the independent auditor, Ernst & Young at HP's annual meeting of shareholders on March 20. They blame the directors for inadequate oversight of the Autonomy acquisition.
CtW Investment Group, which works with pension funds sponsored by affiliates of Change to Win — a federation of unions representing over six million members, asked HP shareholders last month to vote against the re-election of directors G. Kennedy Thompson and John L. Hammergren, and the ratification of Ernst & Young as independent auditor at the meeting. Institutional Shareholder Services has also recommended that shareholders vote against the re-election of Lane, Hammergren, and Thompson.
"Losing some of our directors in an abrupt and disorderly manner could undermine our efforts to stabilise the company," HP lead independent director Rajiv L. Gupta wrote in a letter to shareholders on Monday. "What the company needs now is stability and consistency of leadership so that the Board and the management team can devote all of their focus and energy towards executing on our strategic plan."
HP's board has in a separate letter recommended to shareholders to vote for each of the nominees to the board, including Lane, Thompson and Hammergren. It also recommended ratification of Ernst & Young as independent auditor.
The Serious Fraud Office confirmed on Tuesday it was investigating allegations about the circumstances of the sale of Autonomy to HP. Referring to reports that the office uses an Autonomy product called Introspect, as a document management tool it said that to "ensure that there is now no conflict of interest, or perception of such a conflict," it will as a first step determine whether it can continue as the investigating body.