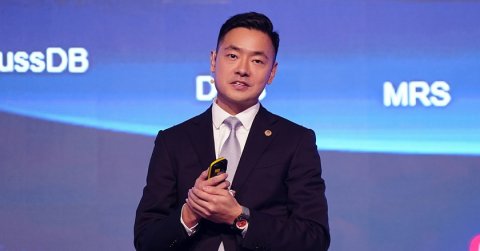 AI is rapidly evolving with emerging new trends transforming industries and impacts the way we live and work. These trends include advanced machine learning, natural language processing (NLP), conversational AI, AI autonomous system and many others. AI is not a new topic in the region, especially in UAE and Saudi Arabia, where governments are implementing policies and effort through their national vision to leverage cloud & AI technology, such as UAE Vision 2031 and Saudi Vision 2030, to drive digital transformation. Huawei Cloud has always been committed to support the countries in their digital transformation journey and advocating AI technology across the region.
According to Huawei Global Industry Vision report, AI adoption by enterprise will be 86% by 2025. Huawei Cloud has been supporting many industries with AI technology adoption such as reducing emergency response time in government sector by 30%, and improving power line inspection by 80x in the energy sector. With over 800 AI projects where 30% of which had AI integrated in the core production systems, Huawei Cloud helps clients to drive business growth. Huawei Cloud also believes that AI Generated Content (AIGC) is expected to push general AI to new heights and that Large Pre-trained models are the solution to fragmented AI applications, and will help to scale up AI in all industries.
In the light of these emerging AI trends, government and enterprises in the region have been playing an active role in regional events that embrace AI topics, such as LEAP Tech Event in Saudi Arabia and Huawei Cloud Summit Middle East & Africa 2023 in Dubai.
Huawei Cloud showcased its Riyadh Intelligent Cortex powered by Huawei Cloud AI technology with functions such as GeoGenius Services, Digital Human Services, Knowledge Computing Services and others to aid in building future smart cities during the 2023 LEAP Tech Conference organised by the Ministry of Communications and Information Technology (MCIT) in Riyadh. At the HUAWEI CLOUD Summit Middle East & Africa 2023 with the theme of Unleash Digital with Everything as a Service, one of Huawei Cloud's focuses is on AI for Industries where AI will be able to accelerate the process of intelligence by inspiring innovation and bring forth breakthrough across industries. Frank Dai, President of Huawei Cloud Middle East & Central Asia, reiterate the importance of AI in vertical industries to address the real challenges and requirements, and introduced Huawei Cloud Pangu AI industry models, such as for government, power grid, coal mines, manufacturing, finance, healthcare, logistic, meteorology. Frank Dai also shared a scenario of how countries can build an intelligent city powered by AI with Huawei Cloud Digital Human Service and GeoGenius Service. In addition, with Huawei Cloud's AI capabilities in building a city digital twin, the process of high-precision 3D modelling can be greatly accelerated from several months to 7 days.
The use of AI technology and trends are growing across regions with government and enterprises leveraging more on AI capabilities to accelerate their digital transformation journey. With AI for Industries as its focus, Huawei Cloud reaffirms its commitment to support the growth of AI technology in the region.