Middle East, June 30, 2021: During MWC Barcelona 2021, Huawei Executive Director and President of Carrier BG, Ryan Ding delivered a keynote speech Innovation: Lighting up the Future. In his keynote, Ding said that innovation in ICT is becoming a key driver of the global economy and its value is moving beyond the telecoms industry. Ongoing innovation in 5G, in particular, will bring more value to operators, the ICT industry, and the global economy, and will light up the future of every industry.
The pandemic, Ding said, has created a new normal in which the digital economy is the driving force for the global economy. ICT infrastructure, as the cornerstone of the digital economy, is playing an increasingly important role. Ding mentioned that the value of ICT now transcends the telecoms industry and has transformative implications for the global economy as a whole.
In countries where 5G is developing faster, operators have seen faster revenue growth, and these countries also tend to have better digital infrastructure overall. Taking China as an example, in less than 18 months, more than 820,000 5G base stations have been deployed, and Chinese operators achieved a 6.5% increase in revenue and a 5.6% increase in net profits in the first quarter this year. The rapid development of digital infrastructure driven by 5G will add EUR1.9 trillion to the Chinese economy in the next five years. The same stories are also unfolding in South Korea and Europe.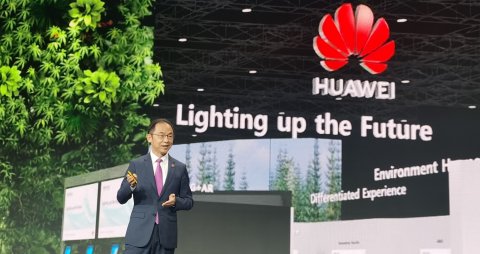 As ICT infrastructure is the cornerstone of the digital economy in the 5G era, operators are playing a more important role than they used to. Ding said, "Currently, the major goal of operators in 5G is to achieve business success in three key markets – consumers, homes, and industries – through innovation in network deployment, market development, and operation optimisation".
Today, 5G has been applied in over 1,000 projects in more than 20 industries including steel and mining, enabling safer and more efficient production. "We've learned from Chinese operators' experience that the success of 5GtoB depends on three factors," said Ding. "First, selecting the right industries. Operators should choose target industries by looking at four factors: demand, affordability, replicability, and technical feasibility. Second, defining the scope of your offerings. Operators can serve as network providers that offer connectivity services. They can also serve as cloud service providers, or even system integrators that provide end-to-end integration services. Different roles require different skillsets and yield different business value. Third, designing innovative business models. This is key to replicating 5GtoB success at scale".
"5G success first requires a 5G network that provides the best user experience, and this guides how we innovate at Huawei", said Ding.
Concluding his keynote, Ding emphasised that 5G development requires ongoing innovation. In 5GtoB, for example, 5G standards need to be coordinated with industry standards at a faster rate, and 5G should be integrated into enterprises' core production processes to help them go digital and intelligent. At the same time, the synergy between 5G, cloud, and computing will further expand the boundaries of operators' business, creating space for new growth. 5G innovation is an ongoing process. Huawei believes that innovation will light up the future.
During MWC Barcelona 2021, Huawei launched a series of 5G products and solutions oriented to "1+N" 5G target networks. Supercharged by industry-leading innovation, these products and solutions will help promote multi-antenna technology to all bands and all scenarios to build leading 5G networks. The products included: Industry's only 400 MHz Ultra-Wideband 64T64R Massive MIMO, Industry's Lightest 64T64R Massive MIMO, BladeAAU Pro: Industry's Only 64T A+P Solution, BladeRRU Pro: Industry's Only RF Unit That Supports Three Low and Three Medium Bands, and Industry's Only Commercial FDD Massive MIMO.
Yang Chaobin, President of Huawei Wireless Product Line, said: "By launching this series, we aim to bring multi-antenna technology to all scenarios and bands. Several products within the solutions are one-of-a-kind and will help operators efficiently deploy 5G networks and provide first-rate experience. Huawei will work with global partners to innovate and share 5G benefits with all".