On the back of SAMENA Leaders' Summit 2022, the top telecom industry event hosted by Huawei for the 9thconsecutive year, President of Huawei Middle East gathered with journalists from across the region to discuss the most impeding and fast-growing technologies. The insights garnered during the exclusive group interview covered how the Middle East is currently leading 5G deployment on the global scale, and how ICT companies should work on achieving sustainability through their operations.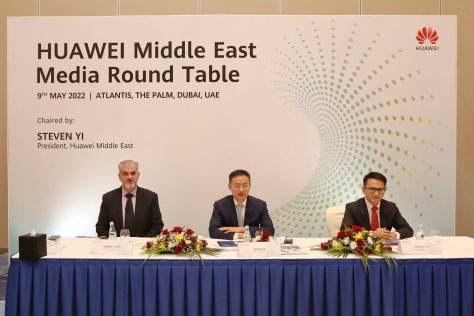 Speaking to Steven Yi,  Tahawul Tech addressed a question on Huawei's sustainability vision, considering that the ICT industry is one of the most energy intensive in the world. "Digitalisation and low carbonisation complement each other, and coordinate development is the inherent demand for high-quality economic and social development. In order to better evaluate the promotion of digitalisation and low carbonisation on green development, we propose a green development maturity model to quantify the green development process from three dimensions: energy efficiency improvement of digital infrastructure, renewable energy development and digital transformation of industries", Yi iterated.
He continued to express that by 2030, renewable energy will account for more than 50% of the electricity generation, ICT energy efficiency will be improved by 100 times, and industry digital penetration will reach 50%. Covering digital power, Huawei digital energy focuses on five fields: smart PV, data centre energy, site energy, smart electric, embedded power, and integrated smart energy. As important strategic digital energy markets in the Middle East and Gulf countries, Huawei has great potential for cooperation in these five fields, especially in smart PV and data center fields. We look forward to working with our partners to contribute to green, low-carbon and sustainable development in the Middle East.
Yi also stressed on the importance of the telecom sector as an enabler for other industries' sustainable development and growth in light of the evolving 5G landscape and the immense opportunities for enterprises in the 5G era. Yi also noted that Huawei, together with carriers and partners, has signed 3,000 5G commercial contracts, and that 5G saw large-scale commercial deployment in many industries, including manufacturing, mining, steel, port, chemical, cement, power grid, and healthcare. "Middle East countries are leading globally in 5G deployment. As an end-to-end leader in 5G, cloud, AI, devices and chips, Huawei will continue its commitment to help countries in the Middle East achieve their visions with digitisation and sustainable development as key drivers", Yi highlighted.
With digital technologies advancing rapidly, securing networks and cybersecurity continues to be Huawei's top priority. "We have a sound cybersecurity and privacy protection assurance structure which has a leading global records", Steven Yi said. "Our practices in cybersecurity have won the continuous trust of our partners including those in the Middle East. We believe that cyber security is a shared responsibility and it's crucial to have an open discussion around cybersecurity governance architecture in line of international standards like 3GPP, GSMA NESAS and others. Last year, we unveiled the largest cybersecurity and transparency centre around the world in Dongguan China, and we hope that we will be able to invite you to visit there after the pandemic to experience this open collaboration platform targeted at addressing cybersecurity challenges and come up with joint innovations for improving the future of cybersecurity", Yi continued.
Yi also stressed on Huawei's commitment to support building digital economies in the Middle East region "We need to be united to establish unified laws and regulations so that the digital economy can be protected".
"In terms of R&D, we will continue to invest heavily to serve our smart and intelligent future. In 2021, We invested over 22% of annual revenue in R&D targeted at supporting the long-term sustainable development of the ICT industry, we will continue to invest significantly in intelligent solutions and services such as ICT infrastructure and cloud services", Yi added.
But focusing and expanding the digital space comes with its own concerns over energy consumption, therefore, Huawei has made sustainability as a priority to achieve a low-carbon society through continuous technological innovation. "In the Middle East, Huawei Digital Energy is working with industry partners to develop the digital energy industry, building a low-carbon telecom sector, homes, factors, parks and smart cities, and moving from a low-carbon society to a zero-carbon one". At the moment, over 100 operators from across the world have deployed Huawei's low-carbon solutions, reducing carbon emissions by 40 million tons.
Steven Yi also highlighted that Huawei is committed to use its global knowledge and expertise in over 170 markets and in mega projects such as the 2018 World Cup in Russia and 2022 Beijing Winter Olympics to the benefit of the Middle East region mega events, including  successfully guaranteeing Saudi Arabia's Hajj network for 16 years, accident free and offering unprecendnted experiences to the upcoming 2022 Qatar World Cup. "We remain committed to collaborate with our suppliers and partners to provide customised, secure, reliable, stable and competitive solutions to our customers in the Middle East Region", Yi concluded.