Middle East, April 12, 2021: On the sidelines of the SAMENA Leaders' Summit, the President of Huawei Middle East, Charles Yang, has provided an update on the company's business globally and across local markets, with his comments following Huawei's release of its annual earnings results for 2020. The executive has emphasised the strategic importance of the region to the company internationally, noting Huawei's commitment to the region, and that there are significant opportunities to enable more aggressive digital transformation in support of national development visions and targets, as well as to grow its market presence.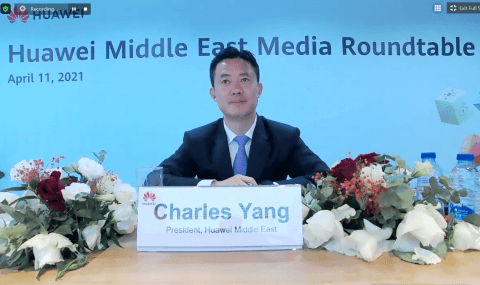 "Digitisation in the Middle East has accelerated remarkably over the last year, with global network traffic having increased by around 50% during the pandemic", notes Yang. "The ICT industry thus has an important responsibility to create new social and business value for governments, organizations, and individuals. We are fully committed to this value creation. We already bring the power of technologies like 5G to key events such as the annual Hajj pilgrimage in Saudi Arabia, and are now aligning with governments to support mega-events like Expo 2020 in the UAE and the FIFA World Cup 2022 in Qatar. We will keep innovating to create value for our customers and to support economic recovery and social progress".
"The Middle East has been an exciting region for us given the enormous scale of developments that are underway that can be empowered by technology. This is epitomised by the rapid development of 5G that has exceeded many expectations. Computing power also plays an integral role in enabling businesses when it works in parallel with 5G. The region today is more connected than at any point in history", comments Yang.
"In today's digital economy, we judge cooperation as fundamentally more important than competition. We need to enable others", contends Yang. "At Huawei, we don't compete for profit with others or with our partners. It is not a zero-sum game. We are a business that thrives on openness, collaboration, and shared success, where we can address real needs and create real value. As such, we will continue to advocate for broader collaboration between the industry, government, and academia to help light up the future through innovation".
Huawei believes that underpinning that cooperation is a shared responsibility towards cybersecurity. The company has thus been working closely with governments, security experts, and enterprises across the Middle East to help evolve cybersecurity assurance and privacy protection systems.
"Cybersecurity and privacy protection have been and will always be our top priorities. Yet cybersecurity is not an issue for any single company or country alone", Yang highlights. "Huawei has not had any major cybersecurity incidents while working with more than 500 telecom providers, including most of the top 50 telecom operators worldwide. To ensure transparency and joint collaboration, Huawei is always ready to sign cybersecurity cooperation agreements with governments and customers in the Middle East. Together, we will keep pushing the boundaries of technology and driving digital transformation forward with our customers and partners".