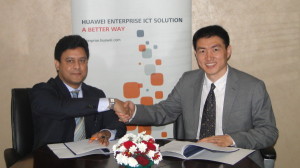 Huawei Enterprise has signed a partnership agreement with UAE-based systems integrator Telematics, which is now an authorised partner in the Middle East.
Huawei said that the partnership underlines its commitment to the Middle East and the expected growth in the region's unified communication (UC) market.
According to a recent report from Frost & Sullivan, the Middle East UC market is expected to reach $235 million by 2014. As the workforce becomes more mobile, UC becomes increasingly important, allowing users to experience seamless communication through multiple devices while on the move.
The tangible business benefits of UC adoption are cost savings resulting from reduced power consumption, space and hardware requirements as well as increased employee efficiency, Huawei said.
Dong Wu, Vice President of Huawei Enterprise Middle East said, "Huawei's channel partner programme plays a vital role in our overall Middle East business strategy where Qatar and the UAE are some of our fastest growing markets.
"Telematic, part of the BMTC group, brings valuable insights into key vertical industries such as finance, hospitality, and government. Together, we look forward to bringing the latest in unified communications technologies to customers throughout the region."