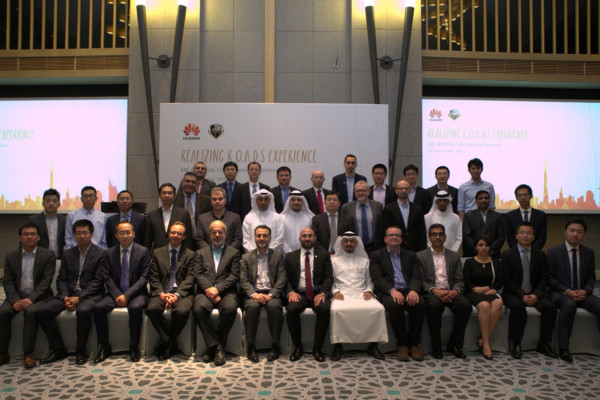 Huawei has announced that it will be starting its first 'CEM Elite Club' initiative in the Middle East in response to growing end-user demand for more customer-centric experiences and services by telecom operators in an increasingly connected world.
The 'CEM Elite Club', was held this week and hosted 43 senior executives from 14 regional telecom players, analyst firms and industry partner organisations coming together to exchange views and share experiences across aspects related with Customer Experience Management (CEM) such as providing holistic solution, expediting ROI towards superior customer experience, use-case sharing, resources and capabilities to name a few.
Huawei has recognised the need for customer-centricity approach within the operator and more so now as communication service providers (CSP's) aspire to transform and become players in the digital business space. These transformations address new challenges to ensure that user experiences are understood by various players within the CSP organisation.
"The event's focus is on building a digital business which is an industry trend and undergoing such a transformation brings significant challenges, with the pressure being put on operators and vendors to deliver an outstanding user experience at every touch point and placing it in at the center of the CSP organisation," said Sun Xiaofeng, VP, Huawei Middle East.
"This transformation is vital in today's increasingly connected world and CSP's are constantly looking to drive growth faster while reducing their operational expenditure. Adopting an Omni-channel management approach and persona-based marketing strategy ensures that they can deliver on the experience promise, and reduce customer care costs by up to 70 percent while increasing customer satisfaction by 19 percent. Huawei's ROADS vision encompasses the five fundamental characteristics for the ultimate user experience: real-time, on-demand, all-online, DIY, and Social. This vision will foster an open industry ecosystem that enables agile innovations, advancing the ICT industry as well as all social sectors in the digital age. Customers want a consistent brand experience each time they interact with a company – and they want this experience across all channels delivered through the products and services in both FBB and MBB areas," added Sun Xiaofeng.
Huawei was also present at this week's IQPC CEM In Telecoms Middle East Conference held on 10th-13th April 2016, and shared its latest Smartcare solution offerings such as Omni-Channel Management, influencing operators' customer satisfaction (CEI) via persona-based analytics-to-action and showcased a profit-driven Service Operation Center (SOC) that demonstrates how to exploit the wealth of data available to operators. Huawei's team also exhibited capabilities related to FMC (Fixed Mobile Convergent CEM) and CEM Platforms' openness to fulfill ecosystem implementation, especially for CSP's with Multi-vendors environment.
During the conference, VIVA Kuwait, part of the STC Group, received 1st place award for two CEM categories for 'Best Network Experience' and 'Best Contact Centre', having deployed Huawei's SOC SmartCare Solution, while Huawei accepted 1st place award for 'Most Innovative use of Technology to Improve Customer Experience'.
The 'CEM Elite Club' is a recent initiative by Huawei and creates a platform for industry leaders to discuss their requirements, share pain points and investment strategies in the CEM space. The event also serves as a working platform for analysts, operators and industry partners looking to build a CEM ecosystem that enables the development of long-term strategy for improved customer experience and gain the skills and capability to break down cross-functional silos to deliver a seamless customer experience.