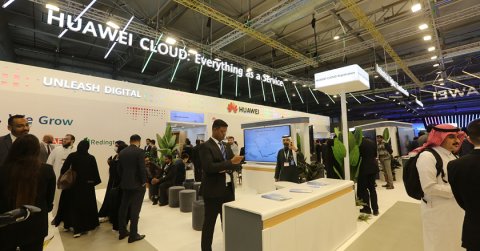 Held under the patronage of the Saudi Arabia Ministry of Communications and Information Technology (MCIT), Huawei is participating as a Strategic Partner of LEAP 2023, the largest and most comprehensive ICT exhibition in the Kingdom, bringing over 100,000 industry leaders worldwide to share the latest in ICT development trends and best practices in the region. Under the theme 'Unleash Digital', Huawei is showcasing its latest innovative solutions for customers spanning across enterprise, carrier, digital power, and cloud.
Huawei's elevated presence reflects its efforts to bring technological advances to even more industries and create new value by helping governments and enterprises in KSA and the wider region achieve digital transformation. At the event, Huawei is demonstrating its end-to-end innovations, focusing on 5.5G, cloud computing, AI, digital power, cybersecurity, and industry applications designed to meet the needs of various sectors, including government, utilities, oil and gas, health, energy, and more.
The event also features executives from Huawei who will deliver keynote speeches on Day 1 and Day 2, covering topics such as innovation, FTTR, digital energy and sustainability, all under Huawei's theme of 'Unleash Digital'.
Steven Yi, President of Huawei Middle East & Central Asia, said: "Our massive participation at LEAP this year reflects Huawei's commitment to accelerate digitalization in the Kingdom of Saudi Arabia. Huawei is already an active contributor to the Kingdom's digital transformation process. During the event, we aim to leverage our partnerships with enterprise customers and partners to explore how the Kingdom can further build a national digital infrastructure and provide end-to-end services and state-of-the-art applications for all people".
Ahmad El Chami, Chief Fixed Access Network Architect, Huawei Middle East & Central Asia, is set to give a keynote speech entitled 'FTTR Full Speed Everywhere Experience'. Chami will highlight the need to ensure customers have access to the best download speeds and services, as connecting to the internet through home Wi-Fi is now an essential daily need.
Safder Nazir, SVP for Public Sector, Huawei Middle East & Central Asia, is to deliver a speech titled 'Ecopolis Now', addressing the triple challenge of sustainability, circularity and resilience facing the world. Adopting the design principles of Ecopolis Now, guided by national policy, will help avoid these growing challenges. A National Digital Twin empowers government decision-makers with predictive intelligence to better manage such challenges and create a sovereign digital nation.
Sanjay Sainani, Global SVP & CTO for Data Centre Business, Huawei, will also deliver a speech on 'Digital Energy Solution for a More Sustainable World'. He will highlight Huawei's initiatives, which aim to empower energy transformation to integrate and innovate around clean power generation, green ICT infrastructure, electrified transportation and integrated smart energy.
Meanwhile, Qi Xiao, Managing Director for Cloud & AI, Huawei Saudi Arabia, will deep-dive into 'Innovation with a Purpose' in a panel discussion with key industry officials. He will outline the unlimited capabilities of innovation in providing end-to-end solutions in the cloud, connecting individuals and businesses in Saudi Arabia as a whole.
Innovation to enable a new intelligent, digital world
At the 4-day event, Huawei is showcasing its industry know-how to unleash new capabilities and open up a new blue ocean of verticals for enterprises, operators and technology leaders in the digital scene.
For enterprise businesses, Huawei deep-dives into industrial digital transformation and provides various offerings for different scenarios to create new value across all vertical industries. In this space, Huawei is demonstrating its intelligent ICT Infrastructure solutions, including SD-WAN, All-Flash Storage, optical technologies, and digital electronics. The company is also presenting how it plans to upgrade its CloudCampus Solution and products through cutting-edge technologies, such as IoT, Wi-Fi 6, SDN, cloud management, and AI, to better help enterprises build a future-proof campus network that features a fully wireless experience.
In carrier networks, Huawei is committed to supporting customers' shift into a digital and intelligent world. At LEAP, Huawei is showcasing to visitors its next-generation carrier networks, including 5.5G, 5G Indoor, 5G Advanced, 5G Core, F5.5G Fibre to everywhere, FTTR, IP for 5G+F5G, 400G, WDM, Cloud-Network Express. In Saudi Arabia, Huawei's 5GtoB offerings have seen large-scale deployment across numerous industries; Huawei will continue to support the Kingdom in achieving 5.5G successfully, enabling a 10 Gbps experience and a hundred billion connections.
In cloud, Huawei is highlighting its everything-as-a-service model, demonstrating cutting-edge innovations in Cloud Native 2.0, Cloud Infrastructure, security of Cloud Native, and Agile Finance, translating the company's 30+ years of ICT know-how into a wide variety of cloud services, including Infrastructure as a Service, Technology as a Service, and Expertise as a Service.
In digital power, Huawei is set to reveal its latest solutions and technological updates that can drive clean energy development. Huawei's booth showcased how energy digitisation can help achieve carbon neutrality and green power generation through photovoltaic power stations, adequate energy storage, green electricity for businesses and households, green data centres, green sites, and green travel/recharge.
In its second edition, LEAP is being held in Riyadh from February 6 – 9 under the theme 'Into New Worlds' to connect leading technology corporations, start-up founders, industry experts and professionals from around the world to discuss opportunities in the digital economy. Huawei's presence at LEAP brings its diverse ICT capabilities together for attendees to explore an intelligent world through an open approach to innovation, cross-industry collaboration, and exchanging expertise across the Middle East and worldwide.