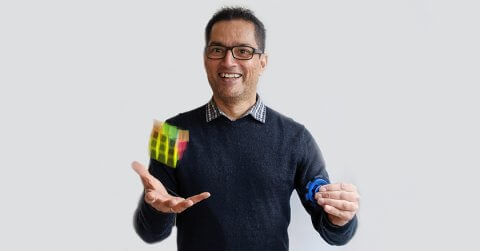 The International Institute of Information Technology – Hyderabad (IIIT Hyderabad) collaborates with leading technology organisations to innovate new solutions that benefit nonprofits in education, healthcare, and other sectors serving the public. Recently, IIIT Hyderabad began using Choreo, a software as a service (SaaS) application development suite from WSO2, to simplify and streamline the delivery of its digital innovations to these nonprofits.
Based in Hyderabad, India, the institute conducts information technology-related research, productises these research projects by wrapping them with APIs, and then makes them available to the public for free. Recent examples include using interactive voice response (IVR) applications to help underprivileged students and patients get answers to their questions using either their mobile or landline phones. In addition to developing new technologies within its research centres, IIIT Hyderabad also collaborates with other organisations—from start-ups to leading corporations—to create new digital solutions.
Initially, IIIT Hyderabad used WSO2 API Manager to make research projects available via standardised APIs. However, following the general availability of Choreo in 2022, the institute saw an opportunity to take advantage of the cloud-based solution's additional capabilities.
"We realised that Choreo had all the features of WSO2 API Manager and more", recalled Khoushik Ananth, lead engineer at IIIT Hyderabad. "We also saw an opportunity to move to the cloud and simplify our efforts by shifting responsibility for maintaining the infrastructure to Choreo".
In the first few months since going into production, more than 15 non-governmental organisations (NGOs) have accessed productised research projects from IIIT Hyderabad through Choreo. The Choreo Marketplace included with the suite allows these nonprofits to easily find and access the APIs for a given project from a single location even if a project uses technologies from multiple organisations. The result is a seamless experience for users. Ultimately, the goal is to make research projects available through Choreo to all of the 200-plus nonprofits working with IIIT Hyderabad.
"Using Choreo and the Choreo Marketplace, we are providing a one-stop-shop where nonprofits can access APIs to applications and services without having to know which organisations they come from", says Khoushik Ananth. "It is one more way that IIIT Hyderabad makes innovative technology solutions readily accessible to nonprofits, so they can better support the communities they serve".
Prakash Yalla, IIIT Hyderabad technology transfer officer (TTO), adds, "Choreo also automates API documentation, single sign-on, and management of the underlying infrastructure. This has freed up our team to focus on making new solutions available faster".
"We introduced Choreo with a mission of empowering enterprises to rapidly innovate new digital experiences, often in hours or days instead of weeks and months", said Kanchana Wickremasinghe, vice president and general manager of the WSO2 Integration Business Unit. "We are excited to see the initial success of IIIT Hyderabad in delivering new digital projects that provide services to underserved communities, and we look forward to supporting the team as they expand their initiatives".